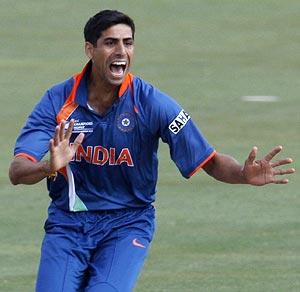 Pacer Ashish Nehra took four wickets as India crushed Sri Lanka by 81 runs to win the 2010 Asia Cup, in Dambulla, on Thursday.
He finished with figures of four for 40 in nine overs as Sri Lanka were dismissed for 187 in 44.4 overs in the final, in reply to India's 268 for six.
The victory helped India end their 15-year drought in the Asia Cup, having last won the tournament in 1995, in Sharjah.
Nehra started with a three-wicket burst that reduced Sri Lanka to 51 for five by the 16th over, after which they never recovered. Only Chamara Kapugedera shone with the bat, scoring 55 from 88 balls, while Thilina Kandamby scored 31, as the rest of the batsmen failed on a pitch offering considerable help for the seamers.
Dinesh Karthik had earlier scored a brisk 66 from 84 balls, inclusive of nine boundaries, to give India a good start after electing to bat. Rohit Sharma (41) and captain Mahendra Singh Dhoni (38) came up with vital knocks to help India post a competitive total.
India failed to lift the tempo in the death overs, as just 55 runs came in the last ten. The Indian batsmen failed to hit even a single boundary in the last five overs.
Lasith Malinga was again lethal in the final overs as he claimed two for 57, while part-timer Kandamby contributed with two for 37 from his seven overs.
Openers Gautam Gambhir and Karthik hit boundaries early in their innings. Karthik started off with a boundary as his edge off Nuwan Kulasekara flew past the lone slip fielder in the first over of the match.
Gambhir, playing his 100th ODI, scored his first four in style, driving Malinga down the ground for a cracking straight boundary.
On 7, he enjoyed two reprieves off successive deliveries in the third over by Kulasekara. First, he was dropped by Thilan Kandamby at first slip off an outside edge, and off the next delivery, wicketkeeper Sangakkara, standing up to the stumps, failed to hold on to a difficult chance.
India were looking to keep a good run rate in the opening overs and Karthik charged down the wicket to Malinga and calmly guided a full delivery through the leg side for a four.
Gambhir's luck finally ran out. He was run out for 15, attempting an impossible third run, as India were reduced to 39 for one after seven overs.
Karthik ensured that the innings did not lose momentum after that wicket as he slammed Maharoof for three boundaries through the off-side to take India past the 50-run mark in the eighth over.
However, Sri Lanka strung together a few tight overs to check India's progress. Virat Kohli struggled to get started. Just eight runs came from the next five overs as India put up 59 for one in 13 overs.
Kohli finally broke the shackles, hitting Angelo Mathews for two boundaries through the covers and midwicket respectively.
Karthik added another four in that over when he caressed one through the off-side as  three boundaries came in the 14th over. He completed his half-century in style, off 51 deliveries, sweeping Muttiah Muralitharan for a boundary, in the 16th over.
Malinga provided Sri Lanka the much-needed breakthrough, claiming the wicket of Kohli. The youngster, who hit 28 from 34 balls, flirted with a wide delivery but only edged it behind to wicketkeeper Sangakkara, in the 19th over.
Kohli and Karthik provided India a good platform, as they added 62 runs in 73 balls for the second wicket.
Once again the wicket saw Sri Lanka string up a few tight overs but India were content to play around for singles and twos.
Farveez Maharoof had taken a hat-trick in the previous match, but in this match he was being targeted by the Indian batsmen as he went for 39 in his five overs.
Mahendra Singh Dhoni also went after him straightaway, charging down the wicket and lofting him down the ground for a huge six, in the 23rd over.
In the next over, he went down the wicket to Muralitharan and flicked him through midwicket for a boundary.
At the halfway stage, India were looking good on 134 for two, with Karthik on 62 from 75 balls and Dhoni on 22 from 26.
It was part-timer Thilina Kandamby, who provided Sri Lanka an important breakthrough when he claimed the wicket of Karthik for 66. The India opener, who hit nine boundaries in his 84-ball knock, mishit a full toss straight down to Mahela Jayawardene on the square leg boundary.
Karthik was subdued after getting to his fifty. He scored just 16 runs from 33 balls since getting to the landmark and when he did try for the big shot he perished.
Suresh Raina and Rohit Sharma batted with caution at the start of their innings as Sri Lanka's spinners again stitched together a few tight overs.
The duo's patience finally wore out as they hit Kandamby for a boundary each in his seventh over, forcing him out of the attack.
Raina grew in confidence and the shots started to flow. He slog-swept Dilshan for a boundary over midwicket followed by another one through covers as India progressed to 213 for four after 40 overs.
But Raina's innings was cut short when he was foxed all ends up Malinga. The Sri Lankan pacer pushed Raina to the backfoot with a few fast bouncers before trapping him leg before wicket with a quick straight yorker. Raina was dismissed for 29 from 31 balls.
Sri Lanka had managed to check India's charge with a wicket at the right time. Despite taking the Batting Powerplay at the end of the 43rd over, India struggled to lift the tempo after Raina's wicket as the boundaries dried up and just 13 runs came from the next four overs, with the total reaching 226 for five after 44 overs.
Ravindra Jadeja finally broke the shackles, hitting a full toss from Malinga wide of the thirdman fielder for a boundary, in the 45th over.
India's woes worsened when Sharma lost his wicket a couple of overs from the end. He tried to play the paddle sweep against Nuwan Kulasekara but got a top edge and was taken by Maharoof after scoring 41 from 52 balls.
India failed to find even a single boundary in the last five overs, scoring just 32 runs, to finish on 268 for six in their 50 overs.
Sri Lanka innings:
The hosts got off to a horrible start, losing a wicket in the very first over. Praveen Kumar struck with the big wicket of Tillakaratne Dilshan for a duck. The batsman tried to pull a shot delivery outside the off-stump but didn't get it off the middle and was caught at mid-on for a duck.
Upul Tharanga got the only boundary in the initial overs as he stroked Kumar through the point region to take the total to 17 for one after five overs.
Kumar Sangakkara got his first boundary by smashing a wide delivery from Kumar through the off-side and then slammed Zaheer through point for another four in the next over.
Zaheer was rewarded for his superb spell with the wicket of Tharanga, who offered no shot to an incoming delivery and was bowled for 16.
Ashish Nehra took no time to get into stride as he claimed two wickets in his second over. The veteran seamer produced a superb outgoing delivery that bounced a bit and Jayawardene could only edge behind and was taken by wicketkeeper Mahendra Singh Dhoni for 11.
Angelo Mathews fell in similar fashion when he played at a wide delivery only to edge it behind. Sri Lanka were left reeling at 50 for four after 14 overs.
Just eight runs came in the five overs of Bowling Powerplay for the loss of two wickets as Sri Lanka struggled to 50 for four after 15 overs.
Nehra made it worse for the hosts when he got the wicket of captain Kumar Sangakkara. The left-hander tried to break the shackles and looked to pull a short delivery but only lobbed a simple catch to Zaheer at mid-on.
Sangakkara was dismissed for 17, leaving his team reeling at 51 for five after 16 overs.
Nehra seemed unplayable as he pitched on a perfect line and length and moved the ball both the ways, leaving the batsmen guessing.
India introduced spin in the form of Harbhajan Singh in the 18th over and even he got considerable purchase from the track. Nehra was taken off after a remarkable spell of three for 15 in five overs and replaced by part-time medium pacer Virat Kohli.
At the halfway stage, Sri Lanka were struggling at 79 for five with Chamara Kapugedera on eight (27 balls) and Thilana Kandamby on 18 (33 balls), needing 190 from the remaining 25 overs for victory.
Kandamby broke the shackles somewhat when he hit a full delivery from Kohli through cover for a boundary, in the 26th over. The left-hander was dismissed a few overs later, run-out for 31 after a misunderstanding with his partner, Kapugedera.
Sri Lanka took the Batting Powerplay after 35 overs with the scoreboard reading 132 for six, but they lost a wicket in the first over of the Powerplay.
Farveez Maharoof also struggled to make an impact before he was caught behind off Zaheer for 10.
Nuwan Kulasekara tried to entertain the crowd as he looked to attack the bowlers and hit three quick boundaries. Kapugedera also tried to up the ante and lifted Nehra over the covers for the second boundary of the over as the hosts reached 157 for seven after 39 overs, still needing 112 runs in 11 overs for victory.
Zaheer was hit for four boundaries in his last two overs as Sri Lanka scored 35 runs in the five overs of Batting Powerplay to reach 167 for seven after 40 overs.
Kulasekara perished in the hunt for quick runs as he charged down the wicket to Jadeja but was stumped after a quick 20 from 16 balls.
Lasith Malinga also tried to have a bit of fun as he went for the slog but ended up holing out Nehra to cover, where he was caught by Jadeja, in the 44th over.
Jadeja finished things off in the next over, having Muralitharan stumped for two, as Sri Lanka were bundled out for 187 in 44.4 overs, giving India victory by 81 runs.
Nehra was the star performer with the ball for India, claiming four for 40 in nine overs, while Zaheer (two for 36) and Jadeja (two for 29) made important contributions.
The toss proved to be too big a factor considering how the match shaped out eventually. Sri Lanka's pacers got no help at all in the first half of the match, but under lights the Indian pacers made the ball talk at will.