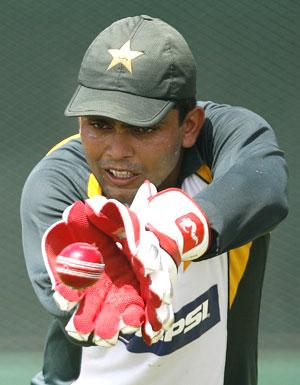 Pakistan's seasoned wicketkeeper Kamran Akmal may face some disciplinary action by the cricket board after the inquiry committee probing into the national team's poor performance in Australia submits its report on Tuesday.
The committee is due to submit its report to Pakistan Cricket Board chairman Ejaz Butt along with recommendations, and a well-placed source in the board informed that the PCB definitely has some issues with Akmal.
"I don't know whether it pertains to these reports about Akmal and Rana Naved being under investigation for match-fixing or the fact that Akmal gave unauthorized statements in Australia; but, definitely, the board chairman is not happy with the wicketkeeper," the source said.
A foreign radio service earlier revealed that Akmal and his teammate Rana Naved were the two Pakistani players under investigation by the board for their alleged involvement in match-fixing.
The PCB chairman had mentioned at a press conference on Friday that two Pakistani players were involved in match-fixing but then retracted his statement and made it clear he was talking about old cases.
"I am not aware whether Akmal was under investigation for match-fixing but it was a fact that the board had told the national selectors not to consider him and Rana Naved for the Twenty20 internationals played against England in Dubai.
"What is true is that when the selectors were picking the squad for the two matches in Dubai this month, chief operating officer Wasim Bari told the selectors not to consider Akmal," the source said.
The source said when 30 probables were being finalised, the selectors had two keepers, Akmal and Sarfaraz Ahmed, in the list, but it was Butt who told them to keep a third keeper.
"Butt's advice that the selectors should include a third keeper into the list came as a surprise to them. Butt told the selectors that with the inquiry committee also due to a give a report on the Australian tour, Akmal could face disciplinary action and there should be a third keeper," the source added.
"He then said that having three keepers was also a wise decision because anyone could get injured at the last moment," the source added. The selectors then added the name of Zulqarnain Haider.
Both Akmal and Rana Naved are playing in the National Twenty20 championship in Karachi that bagan on Sunday and Akmal scored a blistering 68 off 44 balls.
Akmal later told the media that he was shocked by the news that he was under investigation for match-fixing.
"The board has also now made it clear this is not true. I have never been involved in these things," he said.
Akmal, however, said he had dropped plans to take legal action against the media reports because he didn't want get involved in more controversies.
"I just want to concentrate on my cricket and do well in this tournament so that I am well-prepared for the T20 World Cup," he said.