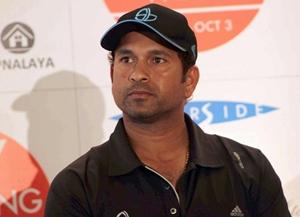 Even before breaching the 200-run mark Sachin Tendulkar was hailed as one of the greatest batsmen to grace the game. But that world record feat of becoming the first man to score a double century has seen his greatness rise to levels like never before. Many former and current players now say he is the greatest cricket player, even better than the legendary Don Bradman.
But Tendulkar, being the modest soul he is, said comparisons between players of different eras are unfair and it would be better if every individual's achievements are celebrated rather than compared.
"It is unfair to make comparisons. I have never believed in comparisons, because I respect every individual. That is how I looked at life, not only in cricket but off the field as well. Every individual has his own identity and I am not only talking about Sir Don but all the other players who have played for a long time at the international level.
"They all have made huge sacrifices, and along with them their families have also made sacrifices; we need to respect that. We need to value rather than compare them with someone or the other. I feel we should appreciate what everyone has done and respect them because that is the way I would prefer to look at it," Tendulkar said, at a charity function in Mumbai on Tuesday.
The master batsman expressed hope that if someone does break the record, it should be an Indian.
"The 200 just happened. Even I didn't know that I would achieve the landmark when I started that innings. I hope that whenever it happens it is an Indian breaking the record, so the record stays with us, with our country. Even today I would not say it is my record; so as long as it is India's record, I will be very happy," he said.
Asked to pick some of the best moments of his 20-year-old international career, Tendulkar replied: "I am always happy whenever India wins, not only in cricket but in all walks of life. It is always greater satisfaction when you have done well. So it is difficult to single out moments because there have been so many of them.
"The last one [scoring 200] was extremely satisfying. The 1998 Sharjah series was one of my high points, then the last match [in Gwalior] and all the victories against Pakistan in the World Cups, because all were high pressure games; the Test victory against Australia at Perth in 2008."
With political parties in Maharashtra rooting for him to be conferred the illustrious Bharat Ratna award, the batting ace himself was excited at the prospect.
"The Bharat Ratna is a very rare achievement. The people who have won the award are not only my heroes but of the entire nation. It would be a great achievement to get that award and join the greats, but I am not thinking of it yet. I will just continue playing cricket and not bother about the award," he said.
Tendulkar also voiced his support for the Indian hockey team, saying the victory over Pakistan was special and he is following the team quite keenly at the ongoing hockey World Cup.
"I saw the hockey match between India and Pakistan and it was a very exciting match and lot of tension at the end. I want India to win in every sport they play and that is why I was happy when they won that match against Pakistan. I always want India to do well in all sports and, as a fan, I am always there to support them," he said.
Photograph: Sahil Salvi