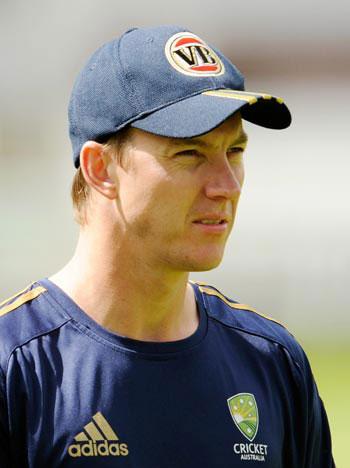 Australian fast bowler Brett Lee believes that a successful comeback to cricket in the Indian Premier League is the first step to reclaiming his position in the national team for the Twenty20 and the 2011 World Cup.
Lee is confident that a gruelling training and rehabilitation regime has him on the brink of returning to cricket after a four-month absence with an elbow injury.
"I've been working very closely with Patrick Farhart, who has been my physio for 16 years, and he's happy with the way it's progressing," he said.
"I'm looking to be up to full pace within a couple of weeks," The Sydney Morning Herald quoted Lee, as saying.
Speaking from Dubai, at the opening of Emirates airlines' training centre for the Kings XI Punjab team, Lee insisted his recent retirement from Test cricket had not curbed his international ambitions in limited-overs cricket.
"It was a lifestyle choice through having a young son. I don't want to be away 11 months of the year," he said.
"There are many things I want to achieve in the shorter form of the game. One, the Twenty20 world cup for Australia; and two, the World Cup for Australia in India. I want to be a part of that," Lee said.
The elbow injury that caused Lee to miss the entire Australian summer came just two days after he led NSW to victory in the inaugural Champions League Twenty20.
Lee has been named in preliminary 30-man Australian squad named last week for the World Twenty20, to begin in the West Indies at the conclusion of the IPL