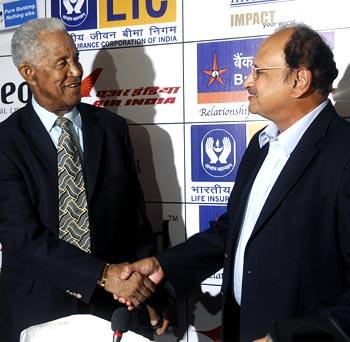 While the world is shouting that Sachin Tendulkar is the best batsman in the history of the game, there are some who feel the tag should go to Sunil Gavaskar.
And among them is none other than the legendary Sir Garfield Sobers, who rates the diminutive former India opener as the best batsman he's seen play the game.
"Gavaskar rated the greatest because of the bowling attacks that he came up against. At that time West Indies had a fast bowling attack that was unplayable; they had bowlers who used to bowl out teams in three days. Gavaskar played against those bowlers and he made a lot of runs. People make always make a lot of runs in their own country, under their own conditions, but if you look at Gavaskar's record, he made a lot of runs away from India; he made a lot of runs in England, a lot in the West Indies and Australia.
"He certainly came up as an opening batsman against the best of attacks like [Michael] Holding, [Joel] Garner, [Colin] Croft; you call them and he played against them," Sobers said at a function, in Mumbai on Wednesday, to celebrate the 40th year of India's first Test series victory in the West Indies.
Sobers was the West Indies' captain when India stunned his all-conquering team to clinch the Test series 1-0 and then followed that up with their first series win in England.
In Mumbai on an invitation from Ajit Wadekar, India's captain in 1971, to felicitate the heroes of the that historic triumph, Sobers showered rich praise on the team that forced him to taste defeat 40 years back.
"The team that we played in 1971 was the best Indian team we played against. They won in England after that to prove that the win against us was no flash in the pan. They beat us and went on to win in England, which I thought they might do. At that stage they were one of the best teams in the world. They were beginning to prove themselves as a force to reckon with as far as Test cricket is concerned, considering that years before that India was looked at as a team against whom you play your youngsters," he said.
"What interested me was the team that played. They had a very young team and they all played together like a team, and this is very important. That Indian team came out with a mission and their mission was to win the series and that is why they performed that well. Everybody pulled their weight and it was a combination of good young players like Sunil Gavaskar, Gundappa Vishwanath with a great captain in Ajit Wadekar, and very good spinners in Bishen Singh Bedi and the others," the former West Indies all-rounder added.
He also stopped short of comparing great batsmen from the different eras, saying every great player like Gavaskar, Viv Richards, Brian Lara and Sachin Tendulkar have their own special place in history.
"It is always difficult to make comparisons, but in my estimation, when you think of him [Gavaskar], you think of Lara, you think of Viv Richards, you think of Sachin Tendulkar. From my own perspective of classing players, because of that era in which he was playing, I would talk about him as my great player in my era," he said.
Sobers though Tendulkar had broken every record in the game, he would rate Don Bradman or Dennis Compton higher, since they played in more difficult conditions without protective gear.
"What can you say about Tendulkar? He has done everything that is expected of a batsman. He is certainly one player that I have admired over the years. People try to compare current players with players of the past, but it is difficult to make comparisons, because the conditions in which they played were far different. The conditions in which Bradman, Compton and myself played were quite different. We played under uncovered wickets, we played under six bouncers an over, we played under beamers that were not called no-balls, we played under conditions when the field was set by players not rules like today, where you have only two men behind square.
"We had teams those days who used to bowl 72 overs a day in what you called slow down tactics so players didn't get a chance to score that many runs. The fast bowlers then used to bowl with backfoot rule, where their front foot used to land two or three feet ahead of the bowling crease and you deliver off the front foot not the back foot, which meant they delivered from more close to you than it is now.
"We didn't have helmets, we didn't have chest guards, no arm guards. So when you make comparisons people must look at how they compare, because these are facts," Sobers said.
He expressed concern over the huge sums of money that Twenty20 tournaments, like the Indian Premier League, is offering players just to compete.
"Twenty20 is good... that you need and people will go and watch it. But you have to be very careful as to how far you let it go. If played in the right spirit like the Stanford T20, where the players were playing to win and there was a purse to win, but nobody was given lakhs of money to play.
"It seemed to work a lot better, because if you didn't win you didn't get anything. Today it is different and I don't know the reasons and I don't want to get into discussions for that. There are obviously reasons that the players are given the huge sum of money that they are given to play Twenty20. Some of them deserve it; you can't say they all do," he said.
Sobers also warned cricket fans and administrators that Twenty20 must be taken only as entertainment and not serious cricket.
"I think it is a game that is entertainment, and I look at it as pure entertainment. I don't think that it would give you Test players. It certainly might help a lot in terms of fielding, running between the wickets, even playing shots. There are some players who were very defensive and had to come to Twenty20 and learnt how to hit the ball and that is something that you need."
Photograph: Leeladhar B