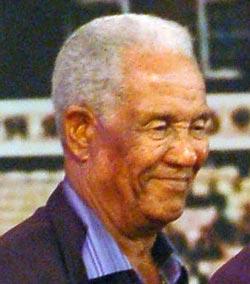 He first visited India way back in 1958-59 as a player and delighted fans with a fine all-round showing. He returned in 1967-68 as captain and led the West Indies to a 2-0 victory in the three-match series. Now, four decades later, he's back in the country and continues to enthrall Indian cricket fans.
Former West Indies all-rounder Garfield Sobers, regarded as one of the best players to have graced the game, was in Mumbai on Wednesday-Thursday to felicitate the 1971 Indian team that registered the country's first Test series victories in the West Indies and England.
As the man himself admits, he is still remembered more for that remarkable feat of hitting six sixes in an over off Malcolm Nash in 1968 rather than other splendid achievements.
Therefore, it was not surprising when, at Thursday's felicitation function in Mumbai, he relived his feat of becoming the first batsman to hit six sixes, accomplished while playing for Nottinghamshire against Glamorgan. And, needless to say, he had the audience, which comprised several current and former players, in raptures. Instead of those heroes of yesteryear, it was the Barbadian who stole the limelight.
Here's what the great man had to say:
"I have always said six sixes is not cricket, because wherever I go around the world the first thing I am recognized is for the six sixes. I keep telling the youngsters that it is not cricket. It was just one of those occasions where I was looking to score as many runs as possible before declaring the innings. I just wanted to get some quick runs.
Sir Everton Weekes and Lord Constantine were talking in the dressing room and I was eavesdropping on them. Sir Everton was a great batsman and he still holds the record for over 60 years now -- scoring five consecutive hundreds in Test cricket. He was telling Constantine that you should never hit the ball in the air because if you keep the ball on the ground nobody can catch it and that is why he hit just one six in his whole career. And Constantine said, 'I am exactly the opposite; I hit them in the air because there is nobody up there to catch it'.
So when I started that innings I thought of the Constantine version of playing the game. And Malcolm Nash was a good bowler; he was a better seam or swing bowler than a spin bowler. The boundary was short on the leg side and Malcolm, a left spinner, bowled it short on the legs and I just helped it on its way over the square leg boundary. That wasn't too bad. And the second ball again he did the same and I helped it again over the square leg boundary.
So Malcolm thought that by going a little bit wider he would make me hit straighter where the boundary was a bit longer. And that was alright because I then hit one over midwicket. All this time I was not thinking of hitting six sixes, because when I played I never thought of records. I might have broken records, I might have set records, but I never thought of records, because the team was always the most important part.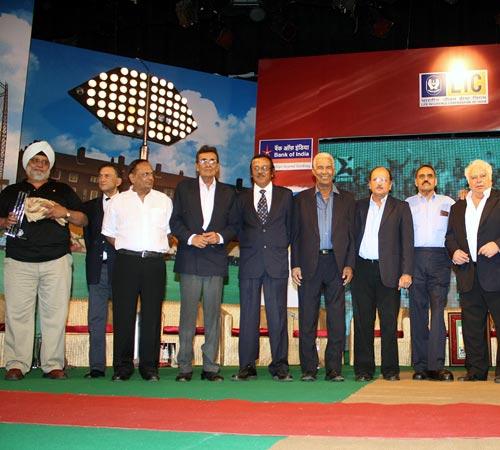 The fourth ball was a bit wider and I hit it over mid-off. All this time Malcolm still thought he could get my wicket and that was his idea. So he drifted outside the off-stump and I hit it over mid-off and the fielder caught the ball and he fell inside the boundary without completing the catch.
Then I also had certain morals about me. Whenever I hit the ball, and saw the fielder catching it, I used to walk and I never waited for the umpire's decision. And I saw the fielder catching the ball and I started to walk, but then I saw the umpires cross to discuss, and somebody told me to wait. So I then stood out and then the crowd from Swansea started yelling. 'You are not out, go back.'
So I went back, and, as you know I don't like breaking or setting records, but having hit five sixes and also this record was not achieved before, I said to myself with one more ball to go I must take a chance. So I thought to myself this is going for six definitely and it doesn't matter where it pitches I can hit it for six.
All great batsmen will tell you that in such instances a bowler will change his action. I knew he would change his action, because he was running in slow and I knew before he even turned around that he would flatten it up. So my mind was already made up even before he started bowling. He dropped it half way down the wicket and, oh dear, my eyes opened up wide like a football and I knew if I swung it over the short boundary there was only way the ball could go. I swung at it, it hit the middle and I heard the commentator say, 'Oh my God! It has gone over the buses, it has gone over the houses, it has gone into the hillocks'.
When we were walking back, I saw Malcolm was smiling and I looked at him and asked: 'Malcolm what are you smiling at?' He looked at me and said: 'I want you to know you could not have done it without me!' "
Photographs: Sahil Salvi