Rohit Sharma on Saturday said Adam Gilchrist and Mahendra Singh Dhoni have striking similarities as captains and credited the Australian for changing the fortunes of his team Deccan Chargers in the Indian Premier League.
After finishing at the bottom of the table in the inaugural edition in 2008, the Chargers under Gilchrist went on to win the title in the second edition in South Africa, last year.
"I would say, Gilly is like MSD. He is cool, calm and composed. He never panics. Same is with Dhoni. So they are similar. Gilly is a good leader. He has brought the team together. He led us to win in South Africa and this year too we will do well," he said.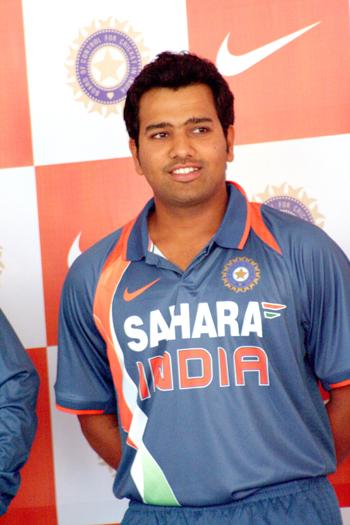 Sharma said Deccan is confident of defending the title although he felt there will be some pressure on the side.
"This is going to be tough season but we are the most dangerous team and will be favourites again. We have got Kemar Roach and he is a good find. Mitchell Marsh is also there and we have seen him playing in the Under-19 World Cup. He is a good prospect.
"Pressure would be there as there will be expectations. Gilly has told us to enjoy the game. He said as long as you are enjoying the game, you will win," Sharma said after unveiling of Citi U-23 Success of the League Trophy.
The IPL will begin March 12 with Deccan Chargers taking on Kolkata Knight Riders in Mumbai. 
Sharma said he was disappointed that Deccan would not enjoy the home advantage since Hyderabad has been scrapped as a venue due to security apprehensions in the wake of the Telangana agitation.
"Yes it is disappointing to not play on home ground. People in Hyderabad have always backed us whether we have done well or not. We will miss Hyderabad. But we have three games in Mumbai which is my home ground," he said. 
Sharma recently hit his maiden triple hundred in the first class cricket when he made unbeaten 309 against Gujarat in a Ranji Trophy match.
The Mumbai player said it was India opener Virender Sehwag, who inspired him to go for a big score. 
"I still remember, we were at a party at Ambani's house to celebrate Sachin Tendulkar's 20 years in international cricket. There, Sehwag told me 'you should not get 100 or 200, go on and make triple hundred'. 
"After that conversation, I got this 300-run innings in the first match I played. So I dedicate it to Sehwag."
Sharma's talent has been hailed by experts but he has not been able to cement his place in the One-day side. 
On being asked about it, he said,"I am in good form. It has happened with big players before also. Important is how fast I come out of it." 
Rahul Dravid's recent comments about youngsters not being desperate enough to play Test cricket created quite a furore but Sharma said the statement was meant for teens who are just starting out and not for players like him. 
"Dravid did not say that about us. I had read that report and Dravid had also made it clear. It was about players who are younger than us, in the 14-15 year age group since Twenty20 is becoming popular," Sharma said. 
On being asked about his priority he said, "For me, cricket is everything, whatever format." he said.