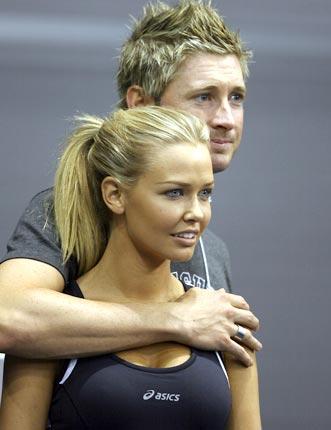 Michael Clarke has abruptly quit the tour of New Zealand due to undisclosed "personal reasons" amid speculation that the Australian vice-captain has flown back home to be with his scandal-hit girlfriend.
Tasmanian batsman George Bailey will replace Clarke in the Australian ODI squad for the ongoing five-match series against New Zealand.
"Michael Clarke has returned to Australia for personal reasons for the time being," Cricket Australia (CA) said in a statement.
"Due to Clarke returning to Australia for personal reasons, the National Selection Panel has added George Bailey to the One-Day squad," National Selection Panel (NSP) Chairman Andrew Hilditch said.
Clarke's girlfriend, swimsuit model Lara Bingle, is currently at the center of a furore Down Under ever since her nude pictures, taken by an ex-boyfriend, were published by a magazine.
Bingle has sued the man, a footballer named Brendon Fevola, saying she felt violated, humiliated and betrayed.
"When I found out about it, I just felt like I had been violated. I do blame him (Fevola). It was a complete betrayal at a time of my life when I trusted him. I was vulnerable and it was a total mistake to trust him," Bingle told the magazine which published those pictures.
"I also feel exploited and compromised by the release of a photograph I never gave permission to him to take - and one he promised he had deleted when he realised how upset I was that he would do that.
"It should never have been taken in the first place. It was definitely an invasion of my privacy and I had always understood it had been deleted," she added.