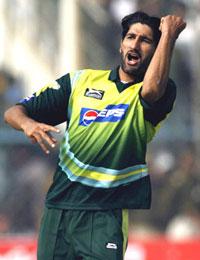 Pakistan fast bowler Sohail Tanvir has been ruled out of international cricket for at least four months due to a knee injury thus ending his chances of playing in the World T20 Championship in the Caribbean next month.
"Tanvir has had an operation in Australia for a chronic knee problem and he has been advised to rest for four months," a Pakistan Cricket Board's (PCB) spokesman said.
He said the board had sent Tanvir to Australia for the operation which was performed successfully.
Tanvir, 25, who has played two Tests and 31 One-Day Internationals, had opted out of a contract with domestic Australian side Victoria in December due to the same injury, The Daily Times reports.
He last played for Pakistan in November against New Zealand.