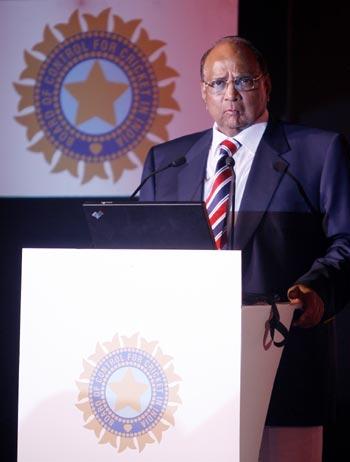 The Mumbai Cricket Association, including its president Sharad Pawar, will not attend any matches of the third edition of the Indian Premier League, which kicks-off in Mumbai, on Friday.
- Schedule: Indian Premier League 2010
MCA joint-secretary Lalchand Rajput said the association was not given any passes for the mega event and hence decided not to attend any games, including the opening ceremony.
"In the first season, for all Mumbai matches we were given 20 per cent passes for all games, but this time we have not got any tickets. The managing committee had a meeting on Thursday evening during which all the members decided that we boycott the IPL since we have not been invited," Rajput told rediff.com on Friday.
However, IPL commissioner Lalit Modi pointed out that Union Agriculture minister Pawar's absence is solely because he will be attending a voting session in Parliament on Friday evening.
"There is a voting scheduled in Parliament at around 5'o clock. He will try hard but it depends on the work of the parliament, so what happens then we will have to see," Modi said.
The DY Patil stadium and Brabourne stadium are the two venues in Mumbai that will host IPL matches.
Modi also added that the organisers are trying to convince Mumbai Indians to allot the required number of tickets for MCA officials.
"We would like our friends in the Mumbai Cricket Association to join us. They wanted a certain number of tickets for the IPL matches which were given to them, but, unfortunately, they wanted tickets for all of the Mumbai matches.
"All the Mumbai matches are in control of the franchise owners and CCI, and we are trying to facilitate that. MCA is a very important member of the BCCI and we would want our members to be happy," Modi said.
The first match of the IPL will be played at the DY Patil Stadium in Mumbai on Friday, when defending champions Deccan Chargers take on Kolkata Knight Riders.
Mumbai Indians will play 2008 champions Rajasthan Royals in the second match of the tournament at the Brabourne Stadium in Mumbai on Saturday, while Kings XI Punjab clash with Delhi Daredevils in a day-night encounter in the second match of the day.