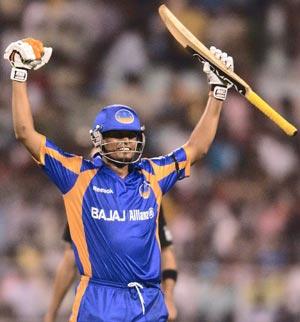 Despite Yusuf Pathan smashing the fastest century of the Indian Premier League, Rajasthan Royals went down to Mumbai Indians by a narrow margin of four runs at the Brabourne Stadium in Mumbai, on Saturday.
Pathan brought back Rajasthan from the dead after the loss of a few early wickets, smashing 100 from a mere 37 deliveries, inclusive of eight sixes and nine boundaries, before he was unluckily run-out.
Paras Dogra hit a quick 41 from 29 balls and was involved in a smashing fifth wicket partnership of 107 runs in 47 deliveries, that was dominated by Pathan. Bit, in the end, it turned out to be a narrow escape for the hosts, as Rajasthan finished on 208 for seven in their 20 overs in reply to a mammoth total of 212 for six.
Lasith Malinga was the star with the ball for Mumbai as he took two for 22 in four overs, while Zaheer Khan, who gave away 27 in his four overs, also came up with a good performance.
Earlier, Ambati Rayudu and Saurabh Tiwary slammed their maiden half-centuries to help Mumbai Indians register their highest total in the IPL.
IPL debutant Rayudu showed his prowess with the bat as he smashed 55 from just 30 deliveries. He got able support from Tiwary, who slammed four boundaries and two sixes for a quickfire 53 from 33 balls.
The two youngsters were unstoppable in the middle overs as they put on 110 runs in 63 deliveries for the fourth wicket.
Mascarenhas took two for 34 in four overs, while Uniyal claimed two for 41 in four overs but it turned out to be a forgettable outing for Shaun Tait, who took one for 46 in his four overs.
Mumbai Indians:
Veteran Jayasuriya started off with three boundaries in the opening over from Dimitri Mascarenhas, while Tendulkar slammed Shaun Tait for back to back boundaries in the next over. The Sri Lankan left-hander then carted youngster Kamran Khan for a huge six over mid-on as Mumbai Indians raced to 36 after three overs.
It was left-arm pacer Amit Uniyal, who provided the first breakthrough for the Royals when he claimed the wicket of Jayasuriya. The left-hander made 23 from 14 balls before he was foxed by a slower delivery from Uniyal and was trapped leg before wicket as he tried to play one across the line on the leg side.
Aditya Tare was promoted up the order and he started with two boundaries in Tait's second over as Mumbai raced past the 50-run mark in the fifth over, having hit seven fours and a six already.
Uniyal too suffered in his second over when Tare hit him for a boundary and a six as he went for 17 runs in that over with Mumbai reaching 69 for one after six overs.
It was Mascarenhas, who brought Rajasthan back in the hunt, with two wickets in his second over.
Firstly Tendulkar was trapped leg before wicket for 17 from 11 deliveries as he attempted to play the paddle sweep but missed the ball. Two deliveries later, Tare hit a full delivery straight to Warne in the cover region after a quick 23 from 13 balls, having hit three fours and a six.
Former ICL player Ambati Rayudu showed no nerves at all as he flicked Mascarenhas over midwicket for a boundary off the first ball he faced. In the next over, he stepped down the wicket to Warne and hit the full toss through the same region for his second boundary as Mumbai reached 84 for three after eight overs.
Youngster Saurabh Tiwary showed scant respect for Warne as he hit him for back to back boundaries to take to the total to 101 for three after ten overs. In the leg spinner's next over, left-handed Tiwary charged down the wicket and hit a huge straight six to continue Mumbai's good progress.
Tiwary showed his class as he effortlessly lifted a full delivery from Yusuf Pathan over wide mid-off for his second six, in the 14th over.
Even at the other end Rayudu also went after the bowlers. Part-time off-spinner Abhishek Jhunjhunwala came under the hammer as Rayudu hit him for three boundaries and a big six straight down the ground as Mumbai Indians reached 159 for three after 15 overs.
Rayudu then repeated the dose on Yusuf Pathan as he thumped him over midwicket for yet another six to send the Mumbai fans into a wild frenzy.
The batting team took the strategic time out at the end of the 16th over and was witnessed last year a wicket fell immediately after the break.
Yet again the slower delivery worked for Uniyal as Rayudu lifted it straight to the fielder on the midwicket boundary after an entertaining innings of 55, having hit six boundaries and two sixes in his 33-ball knock.
Rayudu and Tiwary gave Mumbai the upperhand as they added 109 runs from 63 balls for the fourth wicket.
In the next over, Tiwary's superb innings ended when he was brilliantly caught by wicketkeeper Naman Ojha diving to his left off Tait. Tiwary sparkled with a fine innings of 53 from just 33 deliveries, laced with four boundaries and two sixes.
The wickets continued to tumble in the closing stages when R Satish was run out by wicketkeeper for six as he attempted a quick single, while Harbhajan Singh had to retire hurt after hurting his knee in the final over.
Ryan McLaren ensured the fireworks continued in the final over as he hit Tait for back to back boundaries.
Mumbai Indians finished on a mammoth 212 for six in their 20 overs to register their highest total in the IPL.
Mascarenhas was the best bowler for Rajasthan as he took two for 34 in four overs, while Uniyal claimed two for 41 in four overs.
Rajasthan Royals:
With such a huge target to chase, Rajasthan got off to the worst possible start when opener Swapnil Asnodkar was run out in the first over of the match.
Graeme Smith got the innings going when he hit Zaheer Khan for three boundaries in the third over. Naman Ojha also showed some urgency as he hit Ryan McLaren for two boundaries through the off-side in the next over.
Lasith Malinga started of well as he conceded just four runs in his first over before the pressure paid off. Ojha looked to attack left-arm spinner Murtaza Ali in his first over and ended up holing out to Zaheer at mid-off after scoring 12 from as many deliveries, in the sixth over.
Smith fell in the next over, for a brisk 26 from 22 balls, before he was brilliantly caught by R Satish off his own bowling, diving low to his left.
Abhishek Jhunjhunwala looked to hit the accelerator right from the start as he hit Murtaza for a six and a boundary in successive deliveries. At the other end, Yusuf Pathan showed his power when he lifted a full delivery straight down the ground for his first six of the innings.
Malinga came back for his second over and foxed Jhunjhunwala with a slower delivery. The right-hander was beaten all ends up by the full delivery and he was bowled for 14.
Mumbai Indians were handicapped by the absence of Harbhajan Singh, who didn't take the field after being injured while batting.
After ten overs, Rajasthan were struggling at 69 for four, needing to score 144 from the remaining 60 deliveries.
Just when it looked Rajasthan were out of the contest, Yusuf scripted a stunning comeback. He slammed Murtaza for a hat-trick of sixes and suddenly the Rajasthan team had found a new lease of life.
Medium pacer Satish was the next casualty as Pathan smashed him for three boundaries and two huge sixes to amass 26 runs from the over as Rajasthan reached 114 for four after 12 overs.
During that over Pathan also brought up his half-century from a mere 21 deliveries, having hit six sixes and two boundaries.
McLaren also suffered when Pathan hit him for three boundaries as 62 runs came from the last three overs and Rajasthan now needed 82 from the last seven overs.
Malinga and Zaheer brought all their experience into play as they conceded just 12 runs in the next two overs to make the equation difficult for Rajasthan, who needed 70 from the last five overs.
Sanath Jayasuriya was introduced to bowl his flat left-arm spinners but the move backfired as Pathan took him to the cleaners. He slammed him for a huge six over mid-wicket and then edged one through third man for a boundary. Off the next delivery he dismissed one into the long-on boundary to bring up his century in some style.
It took Pathan just 37 deliveries to complete his first century in the IPL, with his second fifty coming from a mere 16 balls. He hit eight sixes and nine boundaries, which meant 84 runs out of his hundred, had come by way of boundaries in a brutal exhibition of attacking batting.
Even before the crowd had completed their celebrations, they were left stunned by Pathan's sudden dismissal. Paras Dogra hit it straight back to the bowler R Satish, who showed great presence of mind to throw the stumps down at the non-striker's end and catch Pathan off-guard.
Pathan walked back to a standing ovation after a stunning innings of 100, one of the best knocks ever seen in Twenty20 cricket.
Dogra, who was playing second fiddle till that point, suddenly cut loose as he hit the two next deliveries from Satish straight down the ground for back to back sixes and followed it up with two boundaries.
With 19 needed from the last two overs, Zaheer came to Mumbai's rescue as he gave away just seven runs in the penultimate over.
The last over with started with two wickets in the first two balls. Dogra was run out by the bowler Malinga after a good knock of 41 from 29 balls, while Amit Uniyal was bowled off the very next delivery.
Malinga kept his composure in the final few deliveries as Rajasthan Royals finished on 208 for seven in their 20 overs to lose by a narrow margin of four runs.
In the end, it turned out to be one of the greatest batting performances ever seen in the IPL. Captain Shane Warne paid rich tributes to Pathan's superb knock saying: "it was one of the best innings he had ever seen."