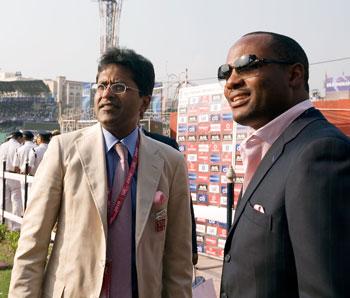 The Indian Premier League bug seems to have bitten Brian Lara as well.
IPL commissioner Lalit Modi on Monday revealed that the West Indies batting legend is keen to play in the fourth season of the mega event next year.
"Spent the last 24 hours with Brian Lara in Kolkata. He is excited of the prospect to be available for IPL 4. Told him to get into training," Modi posted on Twitter.
Former West Indies captain Lara quit international cricket in 2007 and then joined the rebel Indian Cricket League (ICL). He played in the ICL for just one season before giving up all forms of the game.
But since arriving in India a couple of weeks back, the West Indies icon is busy attending various IPL-related events. He was spotted at the Eden Gardens in Kolkata on Sunday when Kolkata Knight Riders played Royal Challengers Bangalore. He apparently met Modi there and discussed his participation in the next season of the league.
Modi also pointed out that the IPL had approached Lara to join them for the inaugural season in 2008.
"Brian Lara was the first guy we approached during first IPL season and, unfortunately, he couldn't join us. We are wishing him to get ready and be a part of IPL season 4," he added.
Photograph: Getty Images