Virender Sehwag almost single-handedly took Delhi Daredevils past Rajasthan Royals in the Indian Permier League match on Monday.
The former captain hit a blitzkrieg 34-ball 75, a knock that put the Rajasthan bowlers to sword, and made it a virtual no-contest.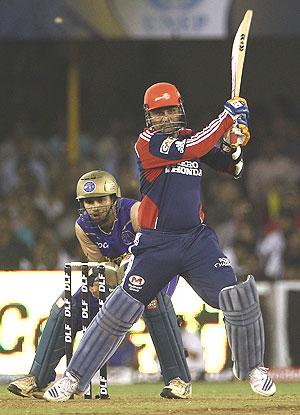 Sehwag's 34-ball knock was inclusive of eight hits to the fence and five massive ones over it.
He was palpably named the man-of-the-match for his effort.
Sehwag, who had missed out against Punjab in the opener, helped himself to a couple of boundaries each in the opening two overs bowled by Dimitri Mascarenhas and Shaun Tait respectively.
In the third over, Munaf Patel's first ball went over the long-off fence and his second reached the mid-on boundary. 
The second ball of Mascarenhas's third over (the innings' sixth) cleared the long-off fence, the third was sliced to the point boundary and the fourth was top-edged behind short fine-leg: a sharp chance, which Tait failed to latch on to.
And Amit Uniyal's morale suffered a beating in the seventh.
Sehwag cleared the long-off fence again with the first ball and cut the second to the third man boundary - the shot ensuring his half-century.
It was his fifth IPL fifty and also happened to be the fastest ever in the tournament (off just 21 balls).
The Delhi veteran celebrated the occasion by hoisting the third ball for yet another maximum -- his fourth.
It took a strategic time-out and a brilliant catch thereafter for the Rajasthan team to plot Sehwag's dismissal.
To the last ball of the 10th over by Munaf, Sehwag skied to midwicket and Smith kept his eyes on the ball to take a blinder -- a brilliant catch bringing to an end a brilliant knock!