A year ago most cricket enthusiasts felt that the best days of the Australian ODI team were over. Haddin wasn't even half a Gilchrist (still isn't!), Matthew Hayden simply couldn't be replaced, Brett Lee was injured all the time and even Ricky Ponting seemed to be losing it a bit. South Africa and India looked to be the future champs.
The 2009 Champions Trophy changed all that. Australia easily won the trophy while both India and South Africa failed to make the semi-finals.
The latest update of the Rediff ODI rankings indicates that while India (58.66) and South Africa (53.06) are still second and third, Australia (76.48) have streaked strongly ahead. It won't be easy to catch up now.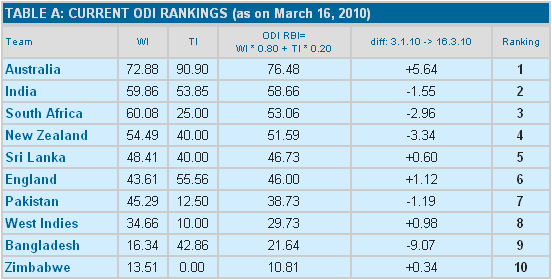 The corresponding Reliance Mobile ICC ODI rankings (as on March 16, 2010) are Australia (133), India (122), South Africa (117), New Zealand (114), England (110), Sri Lanka (108), Pakistan (104), West Indies (72), Bangladesh (52) and Zimbabwe (27). We note that there is a very good agreement between both the ranking schemes.
Details
The Rediff ODI rating, now published regularly for over eight years, is a judicious combination of every team's weighted index (WI) and tournament index (TI).
The WI, based on recent ODI encounters between every pair of teams as shown in Table B, is essentially a weighted average that considers the 'opposition strength' (because wins against strong opponents must be rewarded more) and the 'home-away-neutral' factors (because teams usually win more at home, and lose more playing 'away').
The TI factors in a team's performance in tournaments and series (and thereby seeks to better reward wins in 'big' matches). The TI is currently based on a time window spanning the last 12-13 months, i.e. March 2009 to March 2010.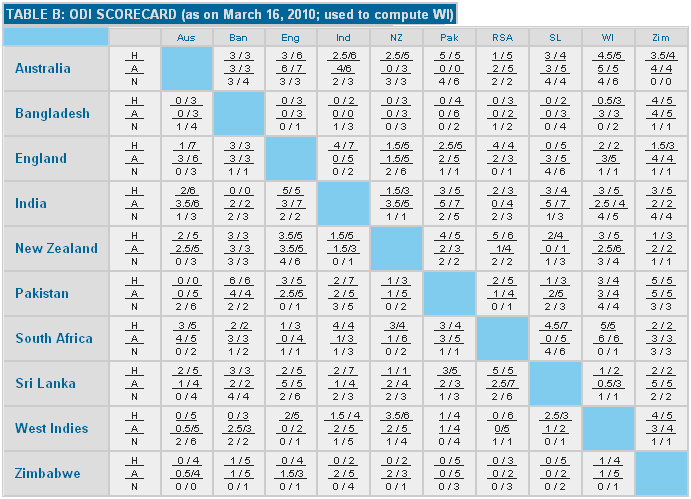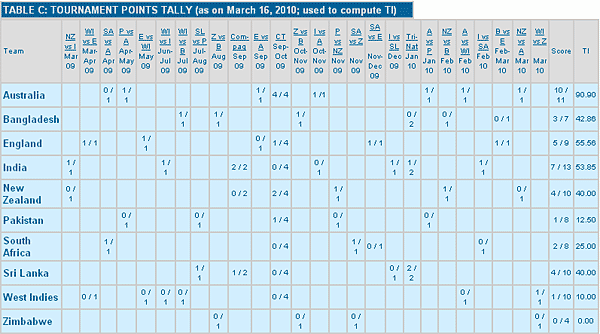 One-Day Internationals now take a break and therefore our next update will appear many months later.