Australia remain on top in the Rediff Test Rankings after thrashing both West Indies [ Images ] and Pakistan at home. India [ Images ] share the second place with South Africa [ Images ] after only managing to draw the recent home series.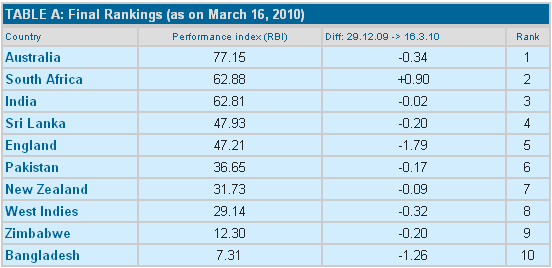 The current Reliance [ Get Quote ] Mobile ICC [ Images ] Test rankings (as on March 16, 2010) are: India (124), South Africa (120), Australia [ Images ] (118), Sri Lanka [ Images ] (115), England [ Images ] (107), New Zealand [ Images ] (81), Pakistan (80), West Indies (77), Bangladesh (12) and Zimbabwe (12?).
The current home-away points tally of Test-playing teams is shown in Table B.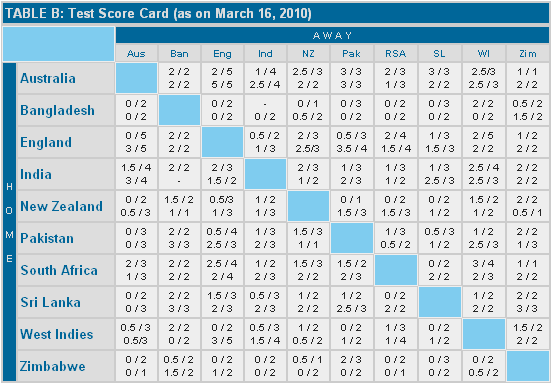 Table C summarizes the home-away series win record of all the nine Test playing countries and Zimbabwe. Note that this table lists statistics relating to Test series, not individual Test matches. So although Australia defeated Pakistan 3-0 at home, it is counted as one home series win for Australia and one away series loss for Pakistan.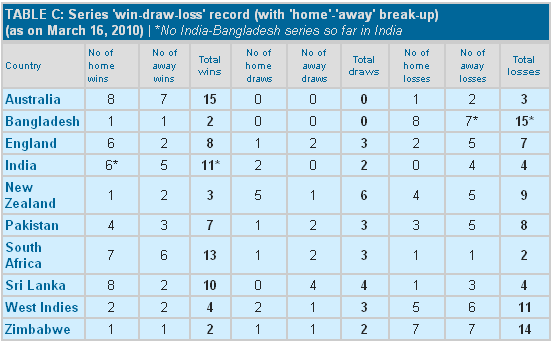 Our next update will appear next month after the Bangladesh-England and New Zealand-Australia test series.