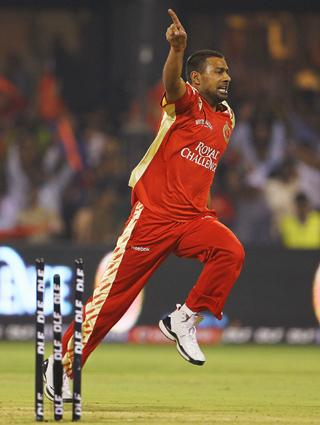 Praveen Kumar became the latest 'trickster' in the IPL after picking three for 18 against Rajasthan Royals on Thursday.
His was the seventh hat-trick overall in the tournament, following 'tricks' by Delhi Daredevils' Amit Mishra, Kings XI Punjab's Yuvraj Singh (twice) among others.
The complete list of bowlers who have registered hat-tricks in the IPL over the three seasons.
| | | | | |
| --- | --- | --- | --- | --- |
| Bowler | Teams | Venue | Date | Victims |
| L Balaji | CSK v KXIP | Chennai | 10 May 2008 | IK Pathan, PP Chawla, VRV Singh |
| A Mishra | DD v DC | Delhi | 15 May 2008 | DB Ravi Teja, PP Ojha, RP Singh |
| M Ntini | CSK v KKR | Kolkata | 18 May 2008 | SC Ganguly, DB Das, DJ Hussey |
| Yuvraj Singh | KXIP v RCB | Durban | 01 May 2009 | RV Uthappa, JH Kallis, MV Boucher |
| RG Sharma | DC v MI | Centurion | 06 May 2009 | AM Nayar, Harbhajan Singh, JP Duminy |
| Yuvraj Singh | KXIP v DC | Johannesburg | 17 May 2009 | HH Gibbs, A Symonds, Y Venugopal Rao |
| Praveen Kumar | RCB v RR | Bangalore | 18 Mar 2010 | DR Martyn, S Narwal, P Dogra |