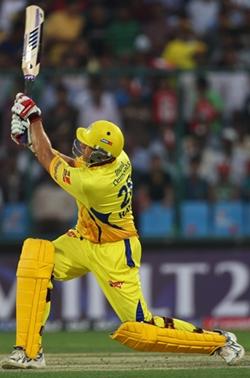 Matthew Hayden blasted an entertaining 93 as Chennai Super Kings outclassed Delhi Daredevils by five wickets in the Indian Premier League match at the Ferozshah Kotla, in Delhi, on Friday.
Using the evolutionary Mongoose bat, the former Australia ace was at his devastating best, smashing nine boundaries and seven sixes, in his 43-ball knock.
Stand-in skipper Suresh Raina guided the team home after his exit with a sensible knock of 49 from 34 balls, as Chennai cruised to 190 for five in 19.1 overs, finishing with five deliveries to spare.
Earlier, Virender Sehwag blazed a quickfire 74 to help Delhi Daredevils post 185 for six in their 20 overs after they had elected to bat first.
The dashing opener slammed 10 boundaries and two sixes to give his team a flying start before he was brilliantly caught by Justin Kemp just inches inside the long-off boundary off Muttiah Muralitharan.
Muralitharan kept the runs in check during the middle overs as he took two for 25 in four overs, while Lakshmipathy Balaji claimed two for 21 in three overs.
Mithun Manhas ensured the innings ended on a high, hitting 32 from 22 balls, laced with five boundaries, while Rajat Bhatia smashed 21 from nine balls.
Delhi Daredevils:
Virender Sehwag started off in style when he slammed Albie Morkel for two boundaries over mid-off in the first over of the match.
New captain Suresh Raina tried to catch Delhi by surprise as he brought off-spinner R Ashwin from the other end. But the move didn't pay off as David Warner and Sehwag hit a boundary each through covers with the bowler overpitching on both occasions.
Joginder Sharma was welcomed to the crease with back to back boundaries over midwicket by Sehwag, who raced to 22 from 11 balls, to take Delhi to 28 after three overs.
Raina continued shuffling his bowlers, as four of them bowled the first four overs. Lakshmipathy Balaji was despatched over long-on for a big six by Sehwag off his first delivery, but the pacer provided Chennai with the first breakthrough.
Warner tried to hit across the line but ended up being caught at midwicket by Matthew Hayden for six, in the fourth over.
Joginder suffered in his second over, when Dilshan slammed him for a boundary through point, and Sehwag hit two more boundaries in that over to take the score to 50 for one after five overs.
Just like the other bowlers, Justin Kemp also suffered at the hands of Sehwag, who hit his first two deliveries for a boundary and six. The Delhi opener then brought up his half-century from just 22 deliveries with a double through the long-off region, in the sixth over from Kemp.
Even veteran Muttiah Muralitharan was not spared as Sehwag guided him past the point fielder for two boundaries in his opening over to take Delhi to 79 for one after eight overs.
Chennai managed to keep the runs in check for the next of couple of overs as Morkel and Muralitharan didn't concede a boundary with Delhi reaching 89 for one at the halfway stage.
But that sequence was broken by Sehwag, who pulled a short delivery from Ashwin, over the midwicket fence for his third six, to race to 71 from 34 balls.
It was Muralitharan, who brought Chennai back in the hunt with two wickets in his third over.
Dilshan, frustrated after a sedate innings of 15 from 24 balls, charged down the wicket and hit one straight to Raina at midwicket.
Two deliveries later, Muralitharan dealt Delhi another big blow with the wicket of Sehwag. The right-hander, who smashed 74 from a mere 38 balls with the help of 10 boundaries and three sixes, chipped down the wicket but ended lofting one towards long-off where Justin Kemp held on to a good catch inches inside the boundary line.
In the next over, Ashwin struck with the wicket of AB de Villiers (2) courtesy of a good low catch from captain Raina as Chennai slipped 105 for three in the 12th over, having lost three wickets in the space of eight deliveries.
Mithun Manhas started off in blazing fashion, hitting two boundaries off the first three deliveries he faced and Dinesh Karthik punished his opposite number Raina with another couple of fours in the next over.
Chennai were unable to stop the flow of runs as Manhas stroked Morkel for two boundaries through the off-side to race to 20 from nine balls and take the total to 139 for four after 15 overs.
Chennai struck against the run of play when Dinesh Karthik was trapped leg before wicket. The Delhi skipper, who made 19 from 14 balls, tried to sweep a full delivery from Joginder but was trapped leg before wicket.
Rajat Bhatia ensured Delhi didn't lose the momentum as he slammed Joginder for two successive sixes, in the 19th over.
Bhatia started the final over with a boundary as he despatched the slower delivery from Balaji through square leg. He tried to the shot off the very next delivery but this time Raina completed a good catch, stretching full length to his right, to send back Bhatia for 21 from nine balls, inclusive of a boundary and two sixes.
Amit Mishra crashed the final delivery through covers for a boundary as Delhi finished on a healthy 185 for six in their 20 overs.
Manhas remained unbeaten on a good innings of 32 from 22 deliveries, that ensured Delhi kept scoring at a good rate despite the regular fall of wickets.
Muralitharan was brilliant with the ball as he took two for 25 in four overs, claiming the important wickets of Sehwag and Dilshan. Balaji also made an useful contribution, taking two for 21 in three overs, but the rest of the bowlers were taken to the cleaners by Sehwag.
Chennai Super Kings:
The first over from Dirk Nannes fetched just four runs, but Hayden and Parthiv Patel went on the attack against rookie Umesh Yadav in the next over.
Parthiv started the over with a boundary through fine leg, and Hayden, dropped by the bowler as he hit one straight back, punished him with three more boundaries in that over.
To Delhi's relief, the two openers had a misunderstanding which resulted in Patel being run-out for six.
Patel, looking for a quick single, was sent back and beaten by a direct hit from AB de Villiers, in the third over.
Hayden finally gave the Mongoose bat its IPL debut when he called on for it in the fourth over, against Pradeep Sangwan. The first ball didn't quite hit the middle, the Aussie getting the inside edge of the bat trying to hit across the line on the leg side. But once he got to grips with the bat all hell broke loose at the Kotla.
Medium pacer Bhatia bore the brunt of Hayden's Mongoose bat as the left-hander hit him for three boundaries and a powerful straight six down the ground as Chennai reached 50 for one after five overs.
Yadav came back for his second spell and struck with the wicket of Subramaniam Badrinath, who was caught by Amit Mishra at midwicket for 14.
But Hayden cut loose from the other end, thrashing Dilshan for three sixes in his first over. The Mongoose power was clearly evident as Hayden hit a big six over the sightscreen and followed it up with two big ones over midwicket. The barrage of sixes also saw the left-hander bring up his half-century from just 23 balls, in the eighth over.
Raina flicked one fine through the leg side for his first boundary against Rajat Bhatia in the tenth over. Hayden then slammed one high into the stands at midwicket for his fifth six in his 31-ball 70 as Chennai reached 102 for two at the halfway stage, needing 84 from the last ten overs.
Raina also joined in the fun when he hit Sangwan over the midwicket fence for his first six. Meanwhile, Hayden continued breaching the boundaries with ease as he sent another one over the sightscreen for his sixth six of the innings. The final delivery of that over from Sangwan was sent crashing through the covers as Chennai raced to 119 for two after 11 overs.
Leg-spinner Amit Mishra was also sent packing to the stands as Hayden swatted him over midwicket for his seventh six of the innings to race to 87 from 37 balls. He moved into the 90s when he flicked a full toss from Nannes through square leg for his ninth boundary.
The veteran batsman was unlucky not to complete his century as his lofted drive down the ground off Mishra was neatly held by Dilshan. The left-hander gave the Delhi fans a super treat as he blasted 93 from just 43 deliveries, inclusive of nine boundaries and seven sixes.
Raina hit Yadav for a couple of boundaries to keep Chennai's run rate going as they reached 153 for three after 15 overs.
Dilshan gave Delhi a glimmer of hope when he had Albie Morkel caught at midwicket for a duck, in the 16th over.
With the extra responsibility on his shoulders, Raina made sure he didn't let his team down with some a sensible batting display. With 30 needed from 24 deliveries, he made Chennai's task easier when he slog-swept Mishra for a six over midwicket.
Nannes kept Delhi interested with a tight final over during which he claimed the wicket of Justin Kemp for four. The left-arm pacer was once again superb with the ball as he took one for 18 in four overs.
The game seemed heading for a tight finish with 16 needed from the last two overs, but Murali Vijay came out attacking. He hit the first ball from Sangwan for a boundary and then despatched one high over midwicket for a six to bring Chennai closer.
Deservedly, Raina hit the winning runs, lifting Dilshan over the covers for a boundary.
The Chennai captain finished unbeaten on 49 from 34 balls, laced with three boundaries and three sixes, as the visitors romped home to 190 for five in 19.1 overs for a convincing five-wicket victory.
With this victory, Chennai jumped to third in the standings, with two wins from three matches, while Delhi slipped to fifth, with two wins from four games.