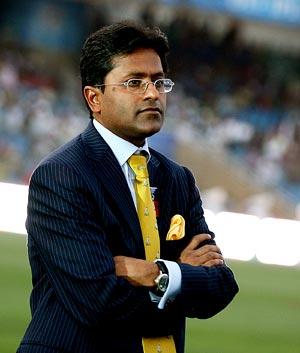 Pune and Kochi are the two new teams for the forthcoming editions of the Indian Premier League, commissioner Lalit Modi announced in Chennai, on Sunday.
- Indian Premier League - Complete Coverage
Sahara Adventure Sports Group successfully won the Pune franchise after they bid the highest amount of US $370 million (Rs 1702 crore), while the Kochi team was won by a consortium, Rendezvous Sports World Limited, for a whopping amount of $333 million (Rs 1533.33 crore), for a period of ten years.
"There were five qualified bids and the bidding was extremely tough," Modi said.
Sahara had highest bids for three cities -- Ahmedabad, Pune and Nagpur -- but eventually they chose Pune as their franchise.
"Rendezvous Group has Vivek Venugopal, Anchor Switches, Rosy Blue Diamond, Mukesh Patel, Ravi and Sanjay Gaikwad as part of the consortium," Modi wrote on his Twitter page.
He further added that: "The new ground in Kochi will go into construction soon. Till it is ready, the matches will be played at another venue."
The other cities which were in the fray were Ahmedabad, Nagpur, Kanpur, Dharamsala, Vizag, Rajkot, Cuttack, Baroda, Indore and Gwalior.
Adani Entreprises and Videocon, the only two bidders at the last auction, which was cancelled by the IPL and fresh tenders were issued on March 7, lost out this time.
The addition of two new teams takes the total number to ten, which means that the number of matches played will go up from 60 to 94 from the fourth season in 2011.
Modi pointed out that the sale of the two new franchises for such a high amount proved that IPL was recession-proof. The existing eights team had fetched a total value of at Rs 2,840 crores but the two new teams were sold for a combined worth of Rs 3,235.53 crores.
"As far as IPL is concerned there is no recession at all. We will continue to be on upward trend," the IPL chief said.
Modi said he does not foresee IPL growing to more than 10 teams in the near future.
"We have no plans to expand further immediately. The IPL will be limited to ten teams only in near future. Also there are no plans to hold IPL abroad in the future. I don't foresee any expansion in many years to come but then you never know," he said.
The IPL will also provide Rendezvous Sports with an alternative venue if the Kerala Cricket Association's cricket stadium is not ready in time for next year's tournament.
"The Kerala Cricket Association are in the process of building the infrastructure so the teams will play only there once the stadium is ready. But till it is ready, the IPL will provide them with alternate venue and that coule be anywhere in India," said Modi.
When asked whether Pakistan's players would feature in the auction to be held later this year, Modi replied: "We hope the Pakistan players are allowed but that will only be decided when the auction takes places in September-October."
Meanwhile, minister of State for External Affairs Shashi Tharoor denied he was actively involved in the successful bid for the Kochi franchise.
"I am not part of the bid but was pleased to give Rendezvous Sports World my encouragement and blessings.My interest is in transforming Kerala. My own role has been limited to blessing and encouraging this venture because I feel very strongly that Keralites in India and abroad need something like this. I think it will help in the transformation of Kerala and that is my spirit. With that spirit I have given it my blessing. Beyond that I have no involvement," Tharoor said.
Photograph: Getty Images