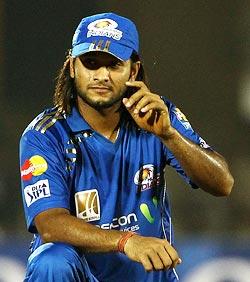 Mumbai Indians batsman Saurabh Tiwary said a successful run in the Indian Premier League is the best way of getting noticed by the national selectors rather than grinding it out in domestic cricket.
"The IPL is a good platform for us youngsters because if you score runs here then everybody knows that you are a good cricketer because you get a lot of media coverage in this tournament. You cannot compare IPL to domestic cricket because even if you score 20 runs in this tournament, it gets coverage. But in domestic cricket it all depends on the media coverage - if that is good then your performance gets noticed," Tiwary said in Mumbai on Tuesday.
The 20-year-old Jharkhand batsman has been an integral part of Mumbai's smashing start to IPL 3. The left-hander started the tournament with back to back half-centuries for a tally of 169 runs in four matches at a healthy average of 43.
Tiwary's attacking approach has impressed even captain Sachin Tendulkar, who has preferred to send him ahead of West Indian stars Dwayne Bravo and Kieron Pollard in the middle-order.
"It feels good when a captain shows confidence in your abilities and sends you ahead of the senior players," said a delighted Tiwary.
Hailing from India captain Mahindra Singh Dhoni's state, Tiwary also looks very much like the Indian captain at the start of his international career with his long flowing locks and stocky body. He rues at not having played enough cricket with Dhoni in domestic cricket.
"I have not played much cricket with Dhoni because he is very senior to me. I have played only one tournament with him and that was a domestic Twenty20 tournament. Then I got a chance to speak to him and learnt quite a few things. I have observed that he reads the game very quickly so that is one of the good things I have learnt from him," said the left-hander.
Despite believing that IPL is a good platform to showcase his talent, Tiwary has no preference when it comes to playing cricket. "A good player is one who excels in all formats including Tests, ODIs and Twenty20 cricket. Tests are still popular and the fans are still crazy for Test cricket. I love playing all formats because a good player is one who does well in all formats."
Photograph: IPL/Getty Images