He was the player who made the difference and was deservedly named the man-of-the-match.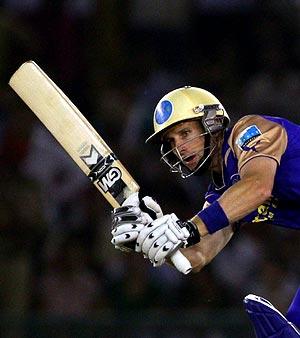 Yes, you guessed it right.
It is Adam Voges.
A brisk cameo by Voges helped Rajasthan Royal reach a competitive total (183) against Kings XI Punjab in their Indian Premier League match against Kings XI Punjab, a total which eventually ensured a comfortable 31-run win - their second straight in the competition. 
The Australian's 24-ball 45 was inclusive of five hits to the fence and one over it. 
"I am happy that we fought back well after the start that Punjab got," said Voges later.
He was also involved in a crucial fourth-wicket partnership with Faiz Fazal (45) that yielded Rajasthan 60 runs off just 37 balls.
The Australian kept the scoreboard ticking with his smart and largely risk-free cricket and when he was asked to bowl he did his job equally well.