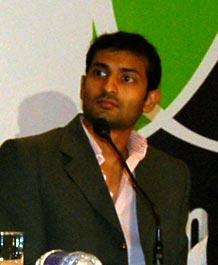 Buying the Kochi Indian Premier League (IPL) team was more about passion for the game than actual business, say the owners.
Rendezvous Sports World Limited won the bid for the Kochi franchise for a whooping US $333 million (Rs 1533 crores), sending the state of Kerala on cloud nine.
The Kochi IPL team consortium includes Rendezvous Sports, Anchor Earth, Film Waves, Parinee Developers and the Elite and Choliyal group.
It just happened over a casual meeting between friends; they decided why not buy an IPL team. The rest, as they say, will now be history.
But the purchase was just the start. The franchise is now running against time to get everything arranged. Work on an under-construction stadium in Kerala has speeded up since the takeover, while the owners are also burning the midnight oil to identify players they hope to sign up during the auction later this year.
Co-owner Vivek Venugopal, who is a part of the Elite and Choliyal group of companies, spoke to Chief Correspondent Harish Kotian on the franchise's plans for the Kochi team.
There are around five partners involved in buying the Kochi IPL franchise. How did all of you get together and decide to buy this team?
Everybody is passionate about cricket and they all wanted to be a part of the IPL. We all decided one day over a casual get together that we should also look to buy a team; that is where the idea started. Over the last six months we have put in a lot of effort and time to put everything in place, get all the partners on board, and, I think, the hard work has paid off.
It is a great feeling that we finally managed to win the bid for the Kochi franchise; we all are very thrilled. It is a big achievement for Kerala as a state and its cricketers too.
How was the response in Kerala and overseas, like the Middle East where there is a huge Malayalee community?
The response from people in Kerala was very positive; people from all over the state are very excited. We are very happy to have delivered them this IPL franchise.
Even the response from Indians working in the Gulf was very good. It was extremely positive. People from all over the world have been calling me and congratulating me. After this, for another few years, no other team will be added to the IPL, so it is a very big development for Kerala.
Will the stadium in Kerala be ready in time? How much support has the Kerala Cricket Association given Rendezvous Sports World Limited in getting the stadium ready?
The Kerala Cricket Association has been very supportive and they really want to help. They have been very progressive, but we don't know if the stadium will be ready or not. The important thing is that everybody is trying for that and we are working as a team and trying to get it done.
We will have to wait and see if the stadium will be ready in the time. Of course, we would like to play in Kerala, but there is also the question of infrastructure around it, like the roads connecting to the stadium. When you have 50,000 people coming to watch a match you have to make sure they have a good experience. All things are being considered because we want to build a world class stadium in Kerala.
We have taken over the stadium only four days ago, so we are just getting started, getting the machinery in place. It won't happen overnight, but soon we will get the process started.
So, if the stadium is not ready, which other alternate venue would you want to play at?
We are talking to the IPL. It is not just that we decide; there are so many processes involved. Also, everybody has to agree with the alternative available.
The IPL will help us get a stadium, which we will use as our home base if the stadium in Kerala is not ready in time. So we will have to work jointly with them.
How important will it be getting S Sreesanth in your team for IPL 4, since he is one of the most successful Kerala cricketers at the international level?
Sreesanth is a great player. He is a national level player and he has been very successful at the top. There are so many external factors and you just can't say he is in or he is out. You have to look at things like his contract; whether his current owners let him go or whether he wants to join us. So we can't just speculate.
One thing is that we need to get the right team of players and look to get the best combination possible.
Even if you don't manage to sign Sreesanth, wouldn't the team compromise mostly cricketers from the state, because you'll have said that you'll are looking to develop cricket in Kerala?
Of course, we would like to have as many players as possible from Kerala. We think it is a great opportunity for players from Kerala to showcase their talent. There are a couple of good players in the Kerala Ranji Trophy, so it is about giving them a platform to show the world their talent.
Earlier, the players used to be disheartened because there was nobody watching them, and the pipeline to get them in the Indian team was limited. Now they might give it a little bit more and it could prove as a stepping stone for them.
With 10 franchises in the fray in the auction for IPL 4, don't you think the player prices will hit the roof? In that case, for a new franchise like you, the US $7 million dollar won't be enough if you want to rope in top players?
The US $7million purse is for all the franchises in the next auction, so I don't think it is a disadvantage for the two new teams. I don't think the talent pool is finite. It is fluid and I am sure there will be new talent coming along everyday.
Today, if you look at it, the senior players are doing well and also leading their teams with great success. I am sure new players will come and every year we see so many talented players being unearthed.