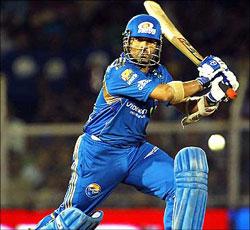 Mumbai Indians' skipper Sachin Tendulkar was on Wednesday fined US $40,000 for maintaining a slow over-rate in the IPL match against Kings XI Punjab, on Tuesday.
Other members of the team were fined US $10,000.
The fines were imposed after the match referee assessed that the Mumbai Indians were one over behind the required rate after allowances were taken into consideration.
Mumbai Indians top the standings after comprehensively defeating Kings XI Punjab by four wickets in a home game at the Brabourne Stadium.