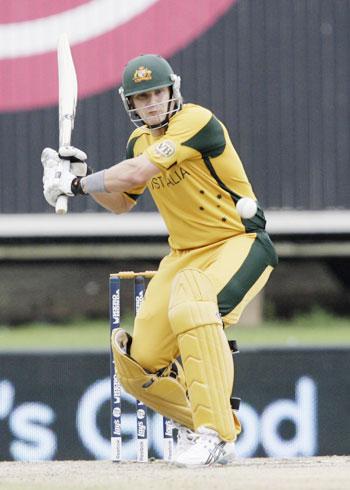 - Scoreboard: Australia vs Pakistan
Australia [ Images ] made an impressive start to their Twenty20 [ Images ] World Cup campaign, with Shane Watson [ Images ] hammering 81 from 49 balls in a convincing 34-run victory over defending champions Pakistan on Sunday.
Australia's innings ended in bizarre fashion with a five-wicket maiden, but their total of 191 was always going to be tough for Pakistan.
The Australians have yet to truly shine in the shortest version of the game and were eliminated without a win from the group stages of last year's edition.
But on this evidence they have assembled a team of hard-hitting specialists and quick bowlers who can cope with the unique demands of the format.
One of those Twenty20 specialists, David Warner helped get Australia off to a rapid start with 26 from 18 balls, taking the total to 51 inside six overs before he fell.
After Clarke went cheaply, David Hussey [ Images ] and Watson took charge, adding 98 in 8.2 overs of aggressive hitting.
Hussey struck 53 from 29 balls including five sixes as he laid into the Pakistani attack.
Although the final over resulted in no runs and five wickets -- two of them run-outs and three of them to left-armer Mohammad Aamer [ Images ] - Pakistan knew they would need a flying start if they were to have any chance.
But openers Kamran Akmal and Salman Butt [ Images ] both went inside the opening four overs and, despite a lively 41 to Misbah-ul-Haq and 33 off 24 balls from Shahid Afridi [ Images ], Australia never offered them more than a glimmer of hope.
Pakistan were up against some good bowling, with three wickets each for pacemen Shaun Tait [ Images ] and Dirk Nannes [ Images ].
Outstanding fielding, with eight catches taken, ensured Australia kept the upper-hand, bowling out their opponents with the final ball.
Perhaps the most impressive catch of the day though was made by an on duty St Lucian policeman in the stands who nonchalantly snaffled an Umar Akmal [ Images ] six, one-handed and without the slightest facial expression as he lobbed the ball back on to the field to roars from the crowd.
The entertaining encounter completed a high-scoring day at Beausejour Stadium and once again was watched by a good crowd in high spirits in marked contrast to the sterile atmosphere of the World Cup in the region three years ago.