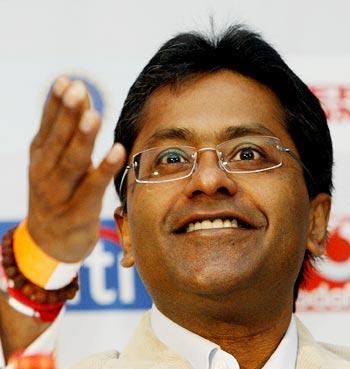 Suspended Indian Premier League commissioner Lalit Modi on Friday took a potshot at the Board of Control for Cricket in India for the latest showcause notice issued to him.
"Another day. Another show cause notice. Any guesses as to who's (whose) purpose ECB's Giles Clark was attempting to serve?" Modi wrote on Twitter.
Modi's troubles compounded on Thursday when the BCCI slapped another showcause notice for activities "detrimental to Indian cricket, English cricket and World cricket at large".
In a rather cryptic statement, which did not reveal details, BCCI secretary N Srinivasan said the board acted on an e-mail from England and Wales Cricket Board chairman Clarke.
Modi is being accused of negotiating a parallel Twenty20 league in England without the knowledge of the England and Wales Cricket Board and the BCCI at a meeting with three counties in March.
However, Modi pointed out that he is unfazed by the allegations and getting ready to reply to them.
"Sorry been busy preparing reply so not had time to tweet. Thanks for all the support and messages.
"At IPL Finals I used a quotation from Bhagwat Geeta 'Fear NOT from what is Untrue'. I believe in this. thus I am unperturbed by allegations," he added.
Speaking to Times Now, Modi said, "What's in the BCCI showcause is fiction. I am confident because I have done nothing wrong."
There are also reports floating around that Modi will hold a media conference on Monday, during which he will make a few disclosures that are likely to embarrass a few top officials in the BCCI.