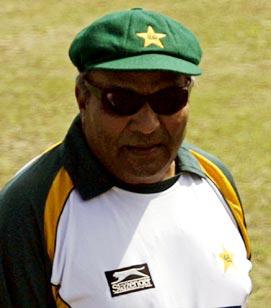 Former Pakistan captain Shoaib Malik had a "negative attitude" while team members did not appreciate representing their country, discarded coach Intikhab Alam was quoted as saying in leaked extracts from a report.
Excerpts from the report of the committee which investigated Pakistan's disappointing performance in Australia earlier this year were published in the Dawn daily newspaper on Saturday, prompting complaints from an inquiry board member.
"They do not know that they are representing the country," Alam was reported to have told the committee about the players, who lost every match of their three-Test, five one-day and Twenty20 tour.
"They don't know how to wear their clothes and how to talk in a civilised manner".
Alam said Malik, one of seven players punished after the inquiry blamed Pakistan's poor performance on infighting, had a "negative attitude" and was "active in intrigues in the team".
Alam, who was released as coach after the tour, said he would not comment on the leaked report. "I don't remember exactly what I said, but I focused on cricketing issues," he said.
Malik and Rana Naved were banned for 12 months and fined two million rupees (US $23,850) each after the February-March inquiry, while former captains Younis Khan and Mohammad Yousuf were given indefinite bans.
The committee fined Shahid Afridi and Kamran Akmal three million rupees each and Umar Akmal two million rupees.
Six of the players have appealed against their punishments while Yousuf announced his retirement from international cricket.
The Pakistan Cricket Board (PCB) declined to comment on the leaking of the report but its legal advisor, Tafazzul Rizvi, who was a member of the inquiry committee, said it us disappointing.
"The board had the report for the last two months but didn't give out details as they are confidential," he said. "But the report...came out soon after we gave the lawyers of the players copies of the report."
Photograph: Reuters