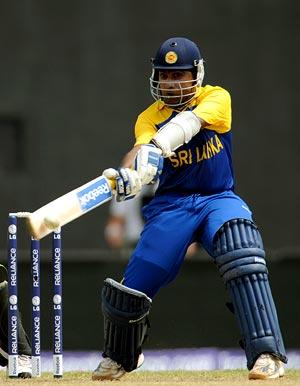 Prolific Sri Lanka batsman Mahela Jayawardene is proving that you do not have to be a slogger to be a run-getter in Twenty20.
The classy batsman has scored 81, 100 and 98 not out in his three innings at the ICC World Twenty20 to leave him with a tournament average of 139.50.
Sri Lanka's Australian coach Trevor Bayliss says the numbers do not lie.
"He is batting as well as everyone in the world knows he can bat," said Bayliss.
"Opening in the 20-overs game is really one of the only spots you can make a big score from and we have got a guy here who is used to making big scores, knows how to go about making big scores, not only in the shorter version but in Test matches as well.
"He is a classical style batsman who doesn't muscle away but still seems to time it pretty well away to the fence or over the fence. He is in a rich vein of form at the moment so hopefully that continues," he added.
On Friday Jayawardene, small in stature but high in experience with 110 Test matches and 317 one day internationals to his name, showed his qualities again with a perfectly assembled innings.
Piercing the field with well-timed and beautifully executed drives, he was left just two runs short of a hundred.
In contrast to 'Made for T20' players wielding heavy wood, Jayawardene applies traditional skills in the modern context but, while clearly proud of his style, he refuses to criticise more unorthodox batsmen.
"For me, it is a contest between bat and ball and if you are batting with the back of the bat and you are getting runs, you are getting runs," he said.
"You shouldn't criticise the technique of any player. We need all these different players to take that game to a different level.
"I am enjoying it. For me it was about me pushing myself with my technique and ability to see how it would suit for me to play T20 cricket. Batting in the middle (order) was a challenge, I adapted and I did different things.
"But I think opening the batting has given me much more freedom to go out and express myself -- guys need to find that. Yes, I am scoring runs, you are not sure how long you are going to be in this game so every time I go out there I want to score runs.
"I haven't changed a lot but having said that I am playing a few more different shots than I am used to in one day or Test cricket because of different tactics. You tend to analyse and see what works for you and what doesn't."