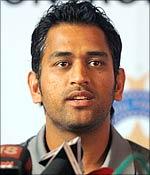 For the second straight time India failed to make to make it to the semi-finals of the World T20 competition and, worse, was unable to win any of the super eights matches.
And the knives have since been out for India's Captain Cool, Mahendra Singh Dhoni.
His predecessors have been quick to pounce on him, questioning his tactics, choice of players, everything. One even went as far to call the 2007 T20 World Cup win under Dhoni a 'fluke'.
Given that cricket is more than religion to Indians, there's been a tremendous outpouring of anger and anguish at the reverses in West Indies.
Quick to be seen as doing something lest the crowds stay away from the game, there's been talk of the cricketing administration replacing Dhoni as the captain in at least the shortest version of the game.
Rediff.com believes that while all is not well in Indian cricket, sacrificing Dhoni will be a blunder of Himalayan proportions. Dhoni has shown in his short career as captain that he has it in him to emerge as one of the finest in the game. The Board of Control for Cricket in India needs to back the captain against the mud-slinging going on.
If you agree, please sign the form below to show your solidarity with Mahendra Singh Dhoni!