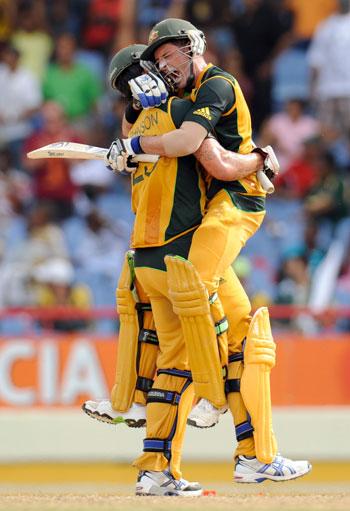 Pakistan coach Waqar Younis refused to blame his side after they were on the receiving end of an astonishing Australia fight back in Friday's Twenty20 World Cup semi-final in St Lucia.
Australia needed an unlikely 53 to win from 21 balls but Michael Hussey turned the game on its head with a breathtaking 60 not out in just 24 balls, including three sixes and a four in successive balls in the last over.
-scoreboard: Australia vs Pakistan
"I can't really blame anyone. I thought we bowled pretty well and batted outstandingly. I still can't believe it," Waqar told reporters after his team's three-wicket defeat.
"All you can do is just smile about it. You can only try your best. I thought we did our best. What else can you do?
"It was an unbelievable innings (by Hussey), you don't see many like that around. The way he maneouvered the ball was excellent, the way he struck it was just amazing," said the former Pakistan paceman.
Waqar said Cameron White's 43 in 31 balls set the tone for the opposition's successful run-chase after Pakistan had totalled a mighty 191 for six.
"The Australians were too good for us today," he said. "I don't think we went wrong anywhere, we did a good job but you've just got to give credit to the Australians for the way they batted.
REAL DAMAGE
"They kept the momentum with them all the way especially Cameron White's innings ... then Hussey did the real damage.
"It's hard to beat them when they've still got (good) batters coming in at number nine. They can maybe improve a little bit in their bowling but they are a very fine batting side," he added.
Waqar attached no blame to spinner Saeed Ajmal, who bowled the last over, or on skipper Shahid Afridi who handed him the ball.
"Saeed Ajmal bowled superbly in the last game we played but what can you do when someone is batting like that?," said the coach.
"Saeed Ajmal has been our best bowler in this entire tournament, and in the last couple of years. You cannot really blame him," he added.
Waqar expects a classic final when Australia take on England in Barbados on Sunday.
"It's going to be a very good game," he said. "We've seen a great game here and I'm looking forward to another thriller in the final.
"They are both playing really well. England are on top of their form.
"It's just a matter of holding your nerves in the final. But the way Australia played today, they are very dangerous," added Waqar.