Australia seek a world title treble while England will be chasing a first global one-day trophy when the old enemies meet in Sunday's Twenty20 World Cup final in Barbados.
Australia already own the titles in the 50-over World Cup and the Champions Trophy but England have failed to land a prize in the 35 years since the International Cricket Council began global one-day events.
An exciting tournament will end at the Kensington Oval with the two best teams meeting in a fixture given added spice by the ancient rivalry between Australia and England.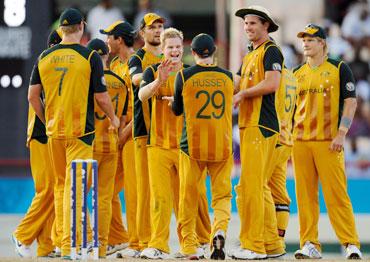 While Australia have dominated the Twenty20 throughout, they will face an England team that has looked more together, focused and talented than any they have assembled in recent years.
However, as skipper Paul Collingwood has frequently noted, that progress will count for little if they return home from the Caribbean empty-handed again.
"We haven't won anything yet -- that's the thing. We've got to a final but it means nothing until we win a World Cup," he told reporters. "Until we do that we're going to keep our feet on the ground."
Collingwood hinted he would field the same team that comfortably beat Sri Lanka in their semi-final on Thursday.
That will mean a first taste of Australian pace bowling for young openers Craig Kieswetter and Michael Lumb.
POSITIVE APPROACH
The pair have kick-started England's innings well throughout the tournament and despite the threat posed by the pace of Shaun Tait and Dirk Nannes, Collingwood said he would not ask his openers to change their positive approach.
"We've got a plan of action against every team and right the way through the tournament we have been very aggressive and I don't want to change our mindset going into the final," said the captain.
"The guys are going to go out with confidence and belief and keep doing the things they have been doing well throughout this tournament."
Australia have looked the most powerful outfit in the event although they needed a rescue act from Mike Hussey, who struck a brilliant 60 in 24 balls, to get past Pakistan in Friday's semi-final.
Michael Clarke's men will be favourites largely due to their strength in depth and experience in big matches.
Clarke, though, said the form book counted for little in the compressed action of Twenty20.
"People would have thought we were the favourites on Friday and we nearly got beaten," he said. "The fact is that we've got two wonderful cricket teams who've played fantastic Twenty20 cricket throughout this tournament.
"We have come a long way in this form of the game. But we didn't come here to make the final, we came here to win the final.
"There's no doubt we'd be much happier leaving Barbados with that one last trophy we don't have just yet," added Clarke.