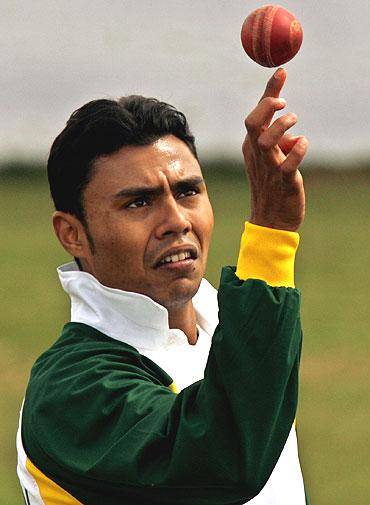 Pakistani leg spinner Danish Kaneria's Test future is in jeopardy after he was arrested and latter released on bail during a betting probe in England.
Kaneria is free to play and would be eligible for the series against Australia in July after he got bail until September 15, but Pakistan Cricket Board Chief Operating Officer Wasim Bari could not guarantee that the leg spinner would be retained in the side.
"We have not received any documentation as yet, it would be unfair to make a comment until I know the full details," The Sydney Morning Herald quoted Bari, as saying.
Kaneria, who played the last two Tests against Australia here last summer, is under investigation for alleged spot fixing during an English domestic game last season.
The 29-year-old and Essex team-mate Mervyn Westfield were arrested by police last week and questioned over accusations of fraud, namely betting on a game they were playing.
The investigation centres around a Pro40 (England's 40-over competition) win against Durham in September last year. Spot fixing relates to betting on small outcomes within a game, such as how many runs or extras will be conceded off a certain over.
Kaneria has denied any wrongdoing, saying after he was first linked to the case last month: "The story is baseless. I have played my cricket for Pakistan as well as for Essex, with pride and honesty … For the last two years I have been Essex's best performer and have never done anything wrong."
Essex Cricket Club confirmed the two men were Kaneria and Westfield, a fast bowler. International Cricket Council president David Morgan said his organisation remained vigilant over spot fixing.
Australia play Pakistan in two Tests in England from July 13 and Kaneria would ordinarily be an automatic starter. He has played 58 Tests, taking 254 wickets at 34.27