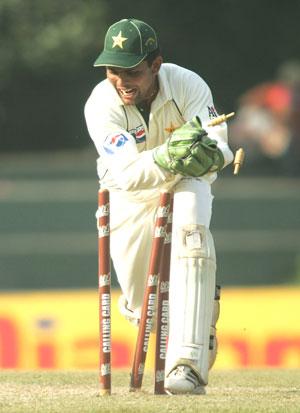 Outrightly rejecting charges of match fixing being labelled against him, Pakistan wicket-keeper Kamran Akmal has said that he has always given his best while playing for the country.
"I have always worked hard for Pakistan and will play for the country. No one has the right to disgrace my nation. I feel bad for my parents, who watch the news like everyone else," Akmal told ESPN-Star Sports.
"I have told the Pakistan Cricket Board whatever I had to and I am sure that the board will look into it," he added.
Akmal, who has been accused of match fixing by former team officials, including coach Intikhab Alam, said he wants to prove all allegations being labelled against him wrong through his performance during this winter's tour of Australia.
Akmal said he has found support in incumbent coach Waqar Younis, who has clarified that he does not share his predecessor Alam's view regarding Akmal's involvement in match fixing.
"If you don't have any proof you should just keep quiet. I won't have a problem selecting Kamran, I think he was one of our better performers in the World Twenty20. There are some very ugly agendas and people trying to benefit here," The Age quoted Waqar, as saying.
It may be noted that Alam, during a hearing of the inquiry commission, which was set up by the Pakistan Cricket Board to probe the winless tour Down Under, had raised questions over Akmal's intentions.
"Kamran is a matchwinner but every time we came close to a victory, he played a bad shot and got out. I was flabbergasted when Kamran missed the run-out. I have serious doubts about him. I have heard stories about match-fixing," Alam was heard saying in a video of the hearing, which was leaked to the media earlier this week.