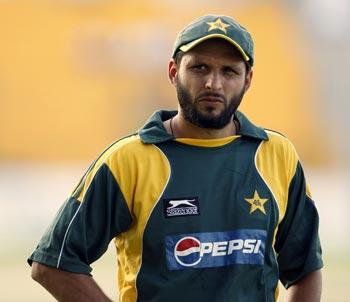 Pakistan all-rounder and Twenty20 captain Shahid Afridi has ended a self-imposed exile from Test cricket and made himself available for this year's tour to England.
Afridi, 30, who has not played a Test since 2006, said on Saturday he is available for the full England tour because Pakistan cricket is going through a difficult time.
"It has a very hard decision for me because I have wanted to devote more time to my family and playing all forms of the sport the year round has not been my cup of tea," Afridi told reporters.
"That is why I avoided Test matches, but after speaking to my family I have decided to resume playing Test matches because it is the need of the time."
Pakistan have not played a home series since March last year due to the unstable security situation in the country. They are scheduled to play two Tests against Australia in England as well as four against the home side.
Afridi is appealing against a fine imposed by the Pakistan Cricket Board (PCB) for ball tampering in a one-day match in Australia this year after serving a two-match ban imposed by the International Cricket Council.