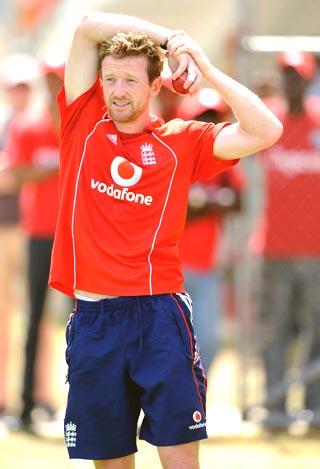 Twenty20 World Cup winning captain Paul Collingwood and bowler Stuart Broad will miss England's Test series with Bangladesh starting at Lord's on Thursday, the England and Wales Cricket Board (ECB) said.
England named a 12-man squad on Sunday that included Eoin Morgan, who is called up to the test squad for the first time after impressive performances in the recent Twenty20 World Cup triumph in Barbados.
The ECB said scans had shown that Collingwood needed treatment for a left shoulder injury while Broad would be rested.
"Paul will undergo a period of rehabilitation for a shoulder injury and has been ruled out of the Test series against Bangladesh," said England selector Geoff Miller.
"There's a need for Stuart to undertake an intensive strengthening programme ahead of an arduous summer and a busy winter and the next three weeks have been identified as the ideal period for this programme," said Miller.
Andrew Strauss will lead England with James Anderson also returning after missing the series in Bangladesh and Middlesex paceman Steven Finn included with seamer Ajmal Shahzad. Five players from the Twenty20 squad were selected.
"We believe we've selected an exciting squad and with Paul Collingwood and Stuart Broad taking no part in this series the opportunity arises for a number of younger players to make a mark at Test level," said Miller.
"Eoin Morgan has impressed everyone since his inclusion in England's one-day squad and he now has the opportunity to play a role in the Test team.  
"He has always held ambitions of playing across all forms of the game and we believe he has earned his place in this Test squad," he added.
Miller said he had been encouraged by Finn's Test debut in Bangladesh over the winter as well as his strong start to the domestic season.
"He is aware of what is involved at the international level and along with Ajmal Shazhad, who has also made a bright start to the County season after touring Bangladesh over the winter, offers us a great deal of depth in the bowling ranks," he said.
Squad:
Andrew Strauss (captain), James Anderson, Ian Bell, Tim Bresnan, Alastair Cook, Steven Finn, Eoin Morgan, Kevin Pietersen, Matt Prior, Ajmal Shahzad, Graeme Swann, Jonathon Trott.