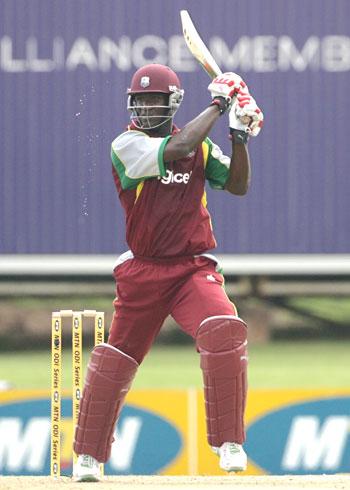 South Africa overcame a sizzling late innings blitz by Darren Sammy to take a 2-0 lead in the One-Day International series against the West Indies on Monday.
Chasing South Africa's 300 for seven, the West Indies ended on 283 with Sammy not out on 58 from just 24 deliveries which included six towering sixes and a pair of fours.
South Africa's innings was built on commanding half centuries by Hashim Amla (92) and Jacques Kallis (85) at the Sir Vivian Richards ground.
Amla dominated an opening stand of 89 with captain Graeme Smith (37) then partnered Kallis as they put on 79 for the second wicket. AB de Villiers hammered 41 from 35 balls with three fours and a six.
Dwayne Bravo rallied the West Indian response with 74, including three fours and two sixes, after opener Dale Richards - who was flown in overnight from Barbados - made 51.
With the game looking lost at 200 for six in the 40th over, Sammy reignited Windies hopes with a six-filled innings which took the team within 18 runs of victory before they ran out of wickets.
South African quick bowler Morne Morkel finished with three for 58 while the standout bowlers for West Indies were Kieron Pollard (two for 39) and Jerome Taylor (two for 50).
Three matches remain in the series. The next is on Friday in Dominica.
Scorecard:
South Africa
G Smith b Miller 37
H Amla c Richards b Taylor 92
J Kallis c Richards b Pollard 85
A de Villiers c Taylor b Pollard 41
D Miller not out 26
A Petersen lbw b Taylor 1
R McLaren not out 8
Extras: (b1, lb4, w5) 10
Total: 300 for 5 (50 overs)
Fall of wickets: 1-89, 2-168, 3-239, 4-276, 5-278.
Bowling: Taylor 9-0-50-2, Rampaul 8-0-58-0, Bravo 10-0-63-0, Miller 2.5-0-19-1, Gayle 7.1-0-41-0, Sammy 5-0-25-0, Pollard 8-0-39-2.
West Indies
C Gayle c McLaren b Morkel 26
D Richards b Kallis 51
R Sarwan c de Villiers b Botha 6
N Deonarine c Miller b Tsotsobe 7
D Bravo c Kallis b Steyn 74
K Pollard c Botha b Morkel 29
J Taylor b McLaren 6
D Ramdin run out (Miller) 2
D Sammy not out 58
R Rampaul run out (McLaren) 5
N Miller run out (Smith) 0
Extras: (b1, lb6, w12) 19
Total: 283 (48.1 overs)
Fall of wickets: 1-40, 2-77, 3-119, 4-182, 5-189, 6-200, 7-236, 8-236, 9-283.
Bowling: Steyn 10-0-59-1, Tsotsobe 9-1-53-1, Morkel 9.1-2-58-3, McLaren 7-1-41-0, Botha 10-0-58-1, Kallis 3-0-7-1.