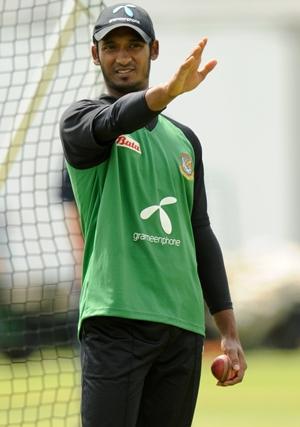 Bangladesh captain Shakib-al-Hasan disclosed on Wednesday that he was approached two years ago by a suspicious individual to underperform in an ODI at home in return for 'sponsorship'.
Talking to reporters on the eve of his side's first Test against England at Lord's, Shakib said he received an approach on phone from an unknown person who he believed wanted him to manipulate the result of an ODI against Ireland in 2008.
Shakib did not specify the exact date of the incident but, apparently, it took place in Dhaka in March 2008. Shakib was not captain of his side at that time.
He said he immediately reported the matter to a Bangladesh Cricket Board official and to Colonel Noor, the regional manager of ICC' Anti-Corruption and Security Unit, and never heard from the caller again.
"It was a long time ago, probably two-and-a-half years ago, in our home conditions against Ireland," Shakib said.
"I didn't talk to him much because we had a team meeting to go to, so I told him 'I'll talk to you later' and immediately told a member of the board and the ICC guy. They took action and after that he never called me again," he said.
"He never exactly told me he wanted me to fix a match, he just told me he wanted to be my sponsor," he added.
The left-arm spinner said his head was very clear to steer clear off corruption and had never worried about money.
"I can't speak for anyone else, but as far as I'm concerned my head wasn't turned at that time. What I feel is I do not care about the money. I want to play for my country, because that is a great pride for me, and I want to continue to do well for my country.
"As far as my family is concerned we are settled enough to lead our lives, so I am not concerned about those monies.
"If I play well for the next ten years, the money will come and I won't have to worry about it," he said.
Shakib's disclosure came on a day a seasoned county cricketer made a shocking revelation that an Indian businessman approached him to fix one-day matches in English domestic cricket.