India [ Images ] captain Mahendra Singh Dhoni [ Images ] is all set to lose his numero uno status in the ICC [ Images ] rankings for ODI batsmen after deciding to skip the triangular series in Zimbabwe starting on Friday.
A player loses half a per cent of his ratings points for every ODI missed and Dhoni, who currently leads Michael Hussey [ Images ] by just eight rating points, will slip behind the Australian when the rankings are released after the Zimbabwe tri-series.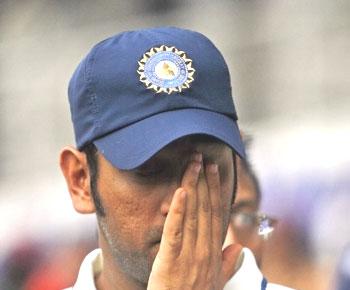 Dhoni had regained the top spot from Hussey in February after the Australian scored 23 against New Zealand [ Images ] in the fourth ODI and didn't play in the fifth.
Sachin Tendulkar [ Images ] (fourth), Kumar Sangakkara [ Images ] (10th), Virender Sehwag [ Images ] (11th), Yuvraj Singh [ Images ] (14th), Gautam Gambhir [ Images ] (23rd) and Mahela Jayawardena (29th) are all likely to slip in the rankings after opting out of the May 28-June 9 series.
India and Sri Lanka [ Images ] have rested their top players for the low-profile Zimbabwe tri-series and it will give a chance to the players who have gone for the tour to increase their ranking.
Stand-in captains Tillakaratne Dilshan [ Images ] (13th) of Sri Lanka and India's Suresh Raina [ Images ] (16th) along with Virat Kohli [ Images ] (21st) will get good opportunities to move up the table.
In the rankings for ODI bowlers, Sri Lankan iconic spinner Muttiah Muralitharan [ Images ] is certain to drop out of the top 20 for the first time since March 1996.
Muralitharan, who will also miss the series in Zimbabwe, currently sits in 16th position and leads the pair of Saeed Ajmal [ Images ] of Pakistan and Dwayne Bravo [ Images ] of the West Indies [ Images ] by only six ratings points.
In the ODI Championship table, India sits in second position on 122 rating points while Sri Lanka is in sixth position, 14 points behind. Zimbabwe occupies 10th position, just two ahead of Ireland.
Meanwhile, South Africa [ Images ] batsman Hashim Amla [ Images ] has rocketed up the ladder after producing player-of-the-match performances in the first two ODIs against the West Indies in Antigua.
Amla scored 102 in South Africa's 66-run win and followed it up with 92 in his side's 17-run victory in the second game, which saw him jump 13 places to be the fourth highest-ranked South African batsman, after AB de Villiers [ Images ] (third), Jacques Kallis [ Images ] (seventh) and Graeme Smith [ Images ] (eighth), in 12th position.
De Villiers, who scored 102 and 41 in the two ODIs, has consolidated his third position, while Kallis, who scored 85 in the second ODI, has swapped places with Smith.
In the bowlers' ranking, Dale Steyn [ Images ] has slipped two places to ninth but Bravo and Morne Morkel [ Images ] has risen up the ladder.
Bravo climbed three places to share 20th spot with Pakistan's Ajmal while Morkel has moved up 12 places to 39th position.