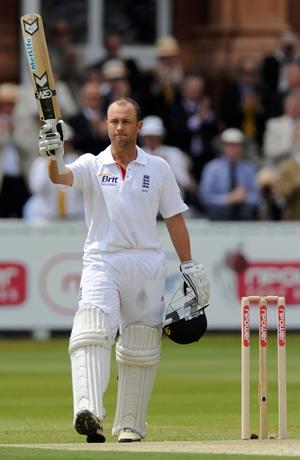 Bangladesh launched a spirited fightback on the second day of the first Test against England at Lord's on Friday after Jonathan Trott had ground out a marathon double century.
Trott batted more than eight hours for 226 in England's first innings 505 all out to become the seventh England batsman to score a double hundred at the headquarters of world cricket.
He finally fell victim to Shahadat Hossain, who wrapped up the England innings with three quick wickets to finish with five for 98 and earn the distinction of becoming the first Bangladesh player to win a place on the Lord's honours' board.
The Bangladesh top order responded with a combination of resolute defence interspersed with some cavalier carves outside the off-stump to reach 172 for two at the close.
England lost their way in the morning session before a good crowd on a sunny day, crawling from 362 for four overnight to 456 for six.
Trott, who had become increasingly becalmed, added only 42 to his overnight total of 175 before lunch and he was eventually out playing a tired looking shot to Imrul Kayes in the gully in the afternoon session.
Tim Bresnan lingered for 77 minutes and 25 runs and only Graeme Swann showed any sense of urgency with a breezy 22 from 13 balls with two sixes.
JUST REWARD
Shahadat, who conceded 101 from 12 wicketless overs when Bangladesh lost their first Test at Lord's five years ago by an innings and 261 runs, won just reward for a tireless exhibition of pace bowling after dismissing Alastair Cook for seven early on Thursday morning.
Bangladesh openers Tamim Iqbal and Kayes rode their luck to put on 88 for the first wicket before Tamim threw away his wicket with a needless runout.
Tamim, who had left the field during the England innings after falling heavily on to his injured left wrist while attempting to save a boundary, had taken a particular liking to the bowling of Bresnan.
He began his innings at a gallop with a brace of fours off Bresnan and lofted consecutive fours through the on-side off the Yorkshireman to reach 55 from 62 balls.
Unhappily for Bangladesh, he then attempted a reckless run, dabbing the ball into the off-side and failing to make his ground at the bowler's end after an athletic pickup and direct hit on the stumps by Kevin Pietersen.
Kayes flirted with danger outside the off-stump, reaching 43 with six boundaries before steering an awkward delivery from the impressive Steven Finn to Andrew Strauss at first slip.
Junaid Siddique (53 not out) and Jahurul Islam (16) then eschewed any risks to guide Bangladesh to a position where the follow-on target of 305 is now in sight.
Finn, bowling an accurate line from an easy, relaxed action in his first home Test, was the pick of the England bowlers with Bresnan looking out of sorts and James Anderson pitching too short too often.
Scorecard
England (1st innings):
 A. Strauss b Mahmudullah 83
 A. Cook lbw b Shahadat Hossain 7
 J. Trott c Kayes b Shahadat 226
 K. Pietersen b Shakib Al Hasan 18
 I. Bell b Rubel Hossain 17
 E. Morgan c Mushfiqur Rahim b Shahadat Hossain 44
 M. Prior run out 16
 T. Bresnan c Siddique b Shahadat Hossain 25
 G. Swann c Rubel b Shakib 22
 J. Anderson b Shahadat Hossain 13
 S. Finn not out 3
 Extras: (lb-10, 13-nb, 8-w) 31
 Total: (all out; 125 overs) 505
 Fall of wickets: 1-7, 2-188, 3-227, 4-258, 5-370, 6-400, 7-463, 8-478, 9-498, 10-505
 Bowling: Shahadat 28-3-98-5, Robiul 22-2-107-0, Shakib 27-3-109-2, Rubel 23-0-109-1, Mahmudullah 23-3-59-1, Ashraful 2-0-13-0.
 Bangladesh (1st innings):
 T. Iqbal run out 55
 I. Kayes c Strauss b Finn 43
 J. Siddique not out 53
 J. Islam not out 16
 Extras: (lb-1, w-3, nb-1) 5
 Total: (2 wickets; 53 overs) 172
 Fall of wickets: 1-88, 2-134
 Bowling: Anderson 16-2-52-0, Bresnan 15-2-65-0, Finn 12-4-39-1, Swann 10-6-15-0
 Still to bat: Ashraful, Shakib, Rahim, Mahmudullah, Shahadat, Robiul, Rubel.