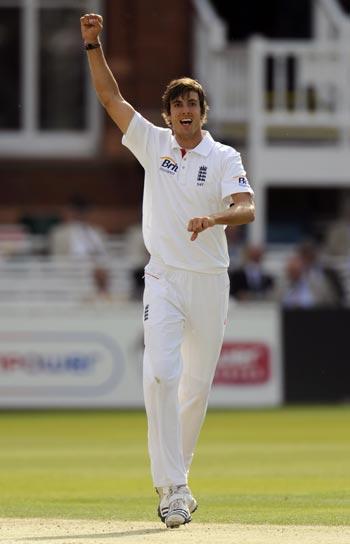 Rain and bad light frustrated England on the third day of the first Test against Bangladesh at Lord's on Saturday despite some high class fast bowling from Steven Finn.
Finn, playing his first test in England at the headquarters of his county Middlesex, confirmed the excellent impression he had made on Friday with three wickets, including two in eight balls.
He finished the day with four for 75 as Bangladesh struggled to 237 for seven, in replay to England's first innings 505, when the players left the field for the third and final time for bad light.
Although Lord's has floodlights, they can be switched on only 12 times a year by agreement with the local goverment council. Officials said it had been decided not to use them during the current test to ensure consistency with Old Trafford in Manchester, hosts of the second and final test in the series starting next Friday, which does not have lights.
Only 28.5 overs were bowled after steady rain prevented any play before mid-afternoon and the required allocation of 90 had been cut to 50. Further time can be made up on the final two days of the match.
When play finally began to a muted cheer from those spectators who had decided to stay the distance, Finn soon made up for lost time, bowling with purpose, pace and control and consistently touching speeds in excess of 140 kms an hour.
ANDERSON STRIKES
Junaid Siddique added five runs to his overnight 53 before he perished to the first ball he faced from Finn, beaten for pace and edging a catch to Matt Prior.
Mohammad Ashraful got off the mark with a streaky four through gully and did well to negotiate an over in which the ball twice flew off the pitch and thudded into Prior's gloves.
Ashraful was not so fortunate with the second ball of Finn's next over. He was hit on the pads moving across his stumps and adjudged lbw, although the ball appeared to have moved back enough to miss the leg-stump.
By comparison, James Anderson struggled at first from the Nursery End, consistently pitching his out-swingers too wide to the right-handers.
He finally found the correct line against Jahurul Islam, removing the obdurate right-hander for 20 after two hours at the crease with a delivery which touched the outside edge to give Prior his second catch of the day.
Switching ends to rest Finn, Anderson captured his second wicket of the match when Bangladesh captain Shakib Al Hasan (25) edged a delivery to Prior. The ball popped out of the wicketkeeper's gloves but fortuitously fell into the hands of Andrew Strass at first slip as Prior tried to grab the rebound.
After a tea interval which seemed superfluous given the loss off so much time, the players left the field after only 2.1 overs for bad light.
They returned in time for Finn to clean bowl Mushfiqur Rahmin for 16 with the second new ball, at which stage the umpires took the players off the field again.
After returning for just nine balls, the players left the field yet again, this time for good.
Scorecard
England (1st innings): 505
Bangladesh (1st innings):
T. Iqbal run out 55
I. Kayes c Strauss b Finn 43
J. Siddique c Prior b Finn 58
J. Islam c Prior b Anderson 20
M. Ashraful lbw b Finn 4
Shakib c Strauss b Anderson 25
M. Rahim b Finn 16
Mahmudullah not out 7
S. Hossain not out 3
Extras: (lb-2, w-3, nb-1) 6
Total: (7 wickets; 81.5 overs) 237
Fall of wickets: 1-88, 2-134, 3-179, 4-185, 5-191, 6-221, 7-234
Bowling: Anderson  25.5-5-61-2, Bresnan 23-5-73-0, Finn 20-5-75-4, Swann 11-6-19-0,  Trott 2-0-7-0.