When you translate promise into performance you are entitled to make claims.
Mitchell Johnson's case is no different.
Having talked elaborately about his plans to counter the Indian batsmen in the run-up to the opening Test at Mohali, Johnson on Sunday proved yet again that he has the ability to execute the plans to perfection.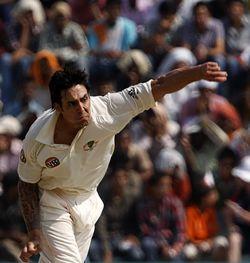 The southpaw followed up an aggressive 47 with the bat -- during Australia's first innings -- with a fiver while bowling, on Day 3 of the Test. It was his sixth five-wicket haul in Tests, and a first against India.
He was then sent by the Aussie think-tank to defend their bowling effort in the post-match press conference. And Johnson was impressive here as well, denying the Australian bowlers were effective only towards the end of the day.
"It is not that we only finished well. We started pretty well too," justified Johnson. "As a bowling unit, we stuck to our task the whole day.
"Dougie (Bollinger) bowled pretty well. Hauritz was out of luck, else he would have got a few more wickets. And I am happy with the way things panned out as regards my bowling," he added.�
The left-arm quick though admitted that the final session was crucial from Australia's point of view.
"It is just that in the last hour, things came together for us. After tea, we just stuck to our plans and remained positive," he said.
He didn't waste time either in pointing out what his team needs to do in the next two days.
"We want to go and get a big total tomorrow. But I can't give you a total that we'd like at the moment," he said, adding, "But we would have to bat the whole day tomorrow and hope the wicket breaks up completely when we come to bowl."
However, he admitted that it wouldn't be easy to score on a not-so-conducive wicket.
"It is going to be difficult to bat on this wicket. But we have some quality batsmen in our side and, hopefully, they won't let the Indian spinners settle down," he said.
His end comments though typified a typical Aussie aggression.
"We will carry forward the confidence (of today) tomorrow and, hopefully, keep the momentum going," he said.
"We want to win this match and we will do everything we can to do it."