For a layman, a no-ball means an extra delivery and an additional run for the opposition.
For the bowler involved, it means frustration and a dent in his confidence, especially if a wicket happens to fall off that delivery.
For Ishant Sharma, Monday was a nightmare. Well, almost.
In the midst of an exciting second spell in Australia's second innings, on Day 4 of the first Test in Mohali, Ishant, having dismissed Shane Watson (56) and Ricky Ponting (4) in his third over, might as well helped himself to a third wicket. However, a curse came back to haunt him.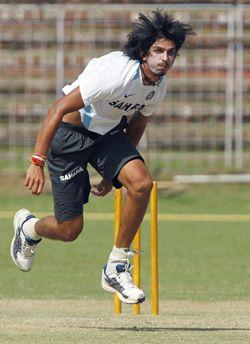 Umpire Billy Bowden had doubts about the legality of the delivery and asked Michael Clarke (4), the batsman dismissed to wait.
He then referred the decision to the third umpire (Sanjay Hazare) and was proved right.
Clarke survived. Not for long though, as Ishant got his wicket in the next over he bowled.
Ishant had learnt a lesson.
"Actually, I was struggling in Sri Lanka as well [with no-balls]," he admitted, before going on to explain what he believes is the reason for the many times he over-steps.
"I have shortened my run-up by two steps and it takes time to get back into the rhythm," he explained, adding, "Maybe, I am missing my steps a bit."
For those interested in statistics, of the 70 balls Ishant bowled in the Australian first innings -- conceding 71 runs before he limped off injured -- 10 were no-balls. Considering he didn't pick up a wicket, it proved costly from the Indian point of view.
And in the visitors' second innings, even though he picked three wickets in that impressive second spell, Ishant overstepped on as many as five occasions. 15 no-balls in a Test is not something a bowler envisages.
Yes, the bowler concerned was a tad apologetic as well.
"It is not the right thing to do," he admitted," before adding, "But when you are running hard, you sometimes tend to make such mistakes."
Did he speak with his teammates about the change in his run-up?
"Yeah, I spoke to Zak (Zaheer) and a few other senior members as also the bowling coach (Eric Simmons) on the technical part, as he was not with the team when I shortened my run-up," said Ishant, before trying to look at it as a positive change.
"It (the change in run-up) is helping me," he said. "The good thing is that I don't need to worry about my pace now," he added.
Whether the change will work for Ishant in the long run, and he does manage to avoid overstepping, will only be apparent in the days ahead.
For the moment, though, there is a silver lining.
His three wickets in Australia's second innings has taken his tally against the team from Down Under to 24, nearly a third of his 76 Tests scalps till date.