"We are like one big family."
The line above is a cliché as far as Bollywood is concerned.
Just question yourself: How many times have you heard an actor/actress utter it when promoting their films.
Well, almost every time.
However, in this case these words were borrowed by Zaheer Khan while describing India's performance in their nail-biting one-wicket win over Australia in the first Test in Mohali, on Tuesday.
"In the last couple of years we have been doing well as a team," he said, explaining his earlier statement.
The left-arm seamer was named man-of-the-match for his eight wickets.
However, there were many who felt VVS Laxman deserved the award more because of his match-winning unbeaten 73.
Not that Zaheer had any problem with that.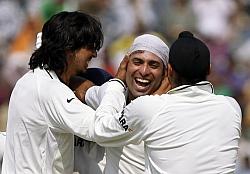 "If he had got the award, I would have no problems," he said, adding, "As long as we keep winning everything is fine."
Zaheer went on to explain the incredible, and, perhaps, impossible result India achieved at Mohali.
"It was a superb game of cricket. Both the sides were fighting hard and striving to win," he said.
"We were lucky to win because now it has shifted the momentum in our favour," he added.
Zaheer admitted there were nerves in the dressing room when the team had been reduced to 124 for eight at one stage.
"We were all nervous. But we tried to be calm and maintain our composure," he admitted, going on to explain the details.
"We couldn't get a partnership up the order, but the Laxman-Ishant stand more than made up for it," said Zaheer.
"Luckily for us, Laxman was there today. He managed to play well despite not being fully fit."