New Zealand have been denied warm-up matches by the weather for the second time in a row on a tour of Bangladesh in an early setback to their preparations for next year's 50 overs World Cup on the Indian subcontinent.
New Zealand, who have been semi-finalists five times but never reached a final, play a five-match one-day series against Bangladesh starting on Tuesday. They have already played in Sri Lanka and will also play matches in India.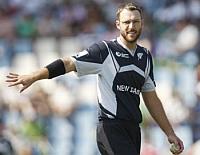 "It happened to us last time as well," New Zealand captain Daniel Vettori told reporters on Monday
"The conditions were not good enough and outfields were not conducive to playing games. So it is really disappointing.
"It's a really important series for us with the World Cup in mind, teams need to find out who their best players are for the World Cup, so we will concentrate on every game with an eye on the World Cup," he added.