Zaheer Khan turned 32 on Thursday.
However, before the team could surprise him with gifts, the left-armer had already ensured himself two memorable presents earlier in the week.
While his match-figures (8-137) helped India to a considerable extent in securing a nerve-wracking win over Australia in the opening Test at Mohali, Zaheer won himself the man-of-the-match honours.
Besides, he had reached a personal landmark.
The wicket of Ben Hilfenhaus (bowled), his eighth of the match, helped Zaheer reach the 250 Test-wickets milestone in what was his 73rd match. He thereby became only the fifth Indian bowler -- after Anil Kumble (619), Kapil Dev (434), Harbhajan Singh (362) and Bishen Singh Bedi (266) to achieve as many wickets.
It took a long time coming. It has been 11 years since Zaheer made his Test debut against Bangladesh (at Dhaka). However, injuries did restrict his career to an extent, delaying landmarks he would have otherwise achieved long back.
However, when it did happen, the bowler had done enough to ensure the occasion was a memorable one.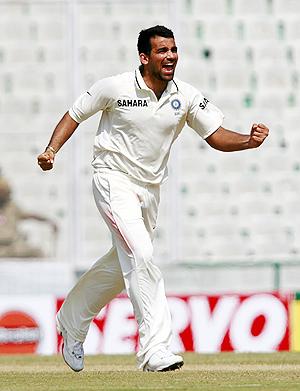 "It's been hard (taking 250 wickets) as I have been struggling with injuries to my shoulders for the last few years," said Zaheer, who now has 42 wickets in 14 Tests against the team from Down Under -- his best return against any nation.
"But winning is very important as well. We did just enough to be on the winning side at Mohali," he added.
Zaheer, besides his exploits in favourable conditions abroad, has also flourished on Indian conditions where most bowlers struggle. In his 30 Tests on home soil thus far, Zaheer's returns have been very handsome: 86 wickets.
Considered an exponent of reverse swing, Zaheer is known to strike late in the day; so much so that the legendary Wasim Akram labelled him the best left-arm seamer in the world at present. The 32-year-old, however, remained humble as regards his achievements.
"In subcontinent conditions, it is always tough for the seam bowlers," he explained, adding, "I just hope that the ball will reverse and then I just need to put it in the right areas.
"And so far it has worked for me." Zaheer has thus far accumulated 30 wickets in five Tests this year.
Considering India is scheduled to play in five to six Tests before the year ends, the left-armer is very much in line to make it his best year ever in terms of wickets gathered -- Zaheer's best year thus far has been 2002, when he took 51 wickets in 15 Tests, while in 2007 he returned with 41 wickets from just nine Tests.
And if he needs further inspiration, he needn't look beyond his teammates, who are the first to acknowledge his efforts in any case.
"Zak deserves all the credit that he gets. He is a very smart bowler and an expert in using the reverse swing to his advantage," explained Harbhajan Singh.
Zaheer's India and Mumbai Indian teammate (and friend) was quick to add his own opinion regarding the bowler.
"I would keep him in the level of Kapil Dev and Javagal Srinath, as one of the best to have played for India," said Harbhajan, before adding, "I hope he continues doing the good job he is doing now in the future as well."