There's one name the touring Australians dread at the moment.
He is the one who endured a bad back and scored an unbeaten 73 in the opening Test at Mohali. His knock ensured a memorable win for India, in a match the visitors dominated for extended periods and thought victory would be theirs.
Not only that, history does suggest the said batsman enjoys playing against the team from Down Under and has a very good record against them.
So much so that when captain Ricky Ponting was informed that VVS Laxman is doubtful for the second Test in Bangalore, his eyes lit up for a moment.
"He's not playing?" he asked back, with a smile.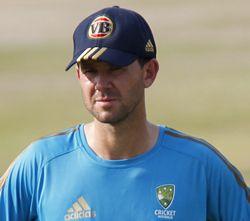 However, despite being told that the Hyderabad batsman's chances of playing are little, Ponting did the buy the information.
"I expect him to play," he said.
Australia's captain had had no objections when Laxman, despite the fact that he was not injured during the match at Mohali, didn't field and only came to bat with a runner.
However, the visitors, by allowing him to bat, only gave India a lifeline, which in turn worked to their detriment.
The next question to Ponting, therefore, was palpable. Would he allow Laxman to bat again in similar circumstances?
"No," retorted Ponting, adding, "That can't happen, obviously.
"He can't always come into a match with pre-existing injuries and then ask for a runner." Australia's captain went on to elaborate his views on Laxman's injury.
"He didn't look uncomfortable at all while batting in Mohali," said Ponting, before adding that his team is least bothered regarding Laxman's presence in the Indian batting line-up.
"Why only Laxman? With the line-up of batsmen India has, it is hard not to talk about anyone," he explained, adding every Indian batsman is a tough customer on these familiar conditions.
"Until you get all of them out, you aren't sure," said Ponting, adding, "They showed how dangerous they can be at Mohali."
He explained that his bowlers need to have their plans reworked if they are to get the better of the Indian batsmen.
"We pay equal respect to all their batsmen and will make sure we have our plans right for all of them," said Ponting.
He, however, admitted that the Australians will suffer to an extent because Doug Bollinger, who was impressive at Mohali before sitting out injured, is doubtful for the Test.
"Yes, he is a bit of a doubt," clarified Ponting, adding, "the physio will assess Doug's condition today and thereafter we will have a clearer picture."