When India took the field on the opening day of the second Test against Australia on Saturday, one name was missing from the line-up.
VVS Laxman, the hero of the opening Test win at Mohali, was never going to make it. He was yet to recover from the bad back and though he was part of the practice session on the eve of the match, he never really looked comfortable.
However, though the Indian think-tank dropped enough clues of him not playing, there was a lot of dilly-dallying as regards the final decision.
So much so that a lot of the morning papers had in fact carried reports of Laxman being a part of the playing eleven.
But when the Indian team took to the field, it had handed Cheteshwar Pujara a Test debut, preferring to let Laxman get some more rest.
An explanation to this effect came later in the day.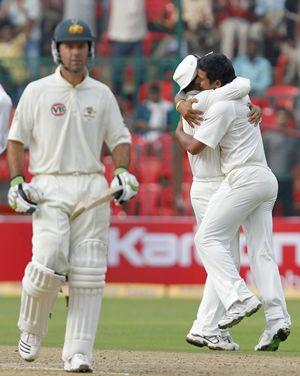 "It was a good decision not to play Laxman," said Virender Sehwag, justifying the team management's decision. The opener admitted that including the Hyderabad player in the squad would have been a mistake.
"He said he was not feeling well and his back had not completely recovered," reasoned Sehwag, adding, "Had we played him we would have been even a fielder short."
The team didn't do badly despite of Laxman's absence though, keeping Australia to a score of 285 for five after the latter had won the toss and predictably opted to bat.
"We are happy with the score we have restricted them to," said Sehwag, adding, "The way they had started their innings, we thought they would make around 350 at the end of the day.
"They were playing some positive cricket to begin with." Sehwag was quick to point out what he felt was the turning point in the day.
"(Suresh) Raina's dismissal of Ricky Ponting (77) helped slow things down," explained Sehwag. "He (Ponting) had settled down well and was playing some aggressive cricket," he added.
With the opening day ending all square, the Indian think-tank already has plans chalked out for the remaining days.
"We will try to get them out as early as possible," said Sehwag, adding, "We will then try to bat for as long as we can.
"Hopefully, the wicket will get better as the match progresses."