The second Test between India and Australia at the M Chinnaswamy stadium in Bangalore is special for Sachin Tendulkar in many respects.
Apart from becoming the first player in Test history to achieve the 14,000 runs milestone, the batting ace also broke several other records (see box below).
But if he is predictable on the field -- regarding the manner in which he plays and scores those many runs -- he is equally predictable when it comes to answering questions from the media.
The tone, more often than not, is a diplomatic one, and the answers mostly on expected lines.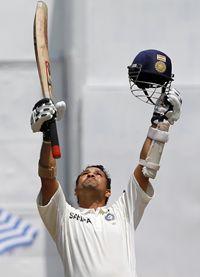 It gives one a feeling that he has heard it somewhere before. But it is a pleasure to hear the legendary batsman speak, even if he is guilty of being repetitive on more occasions than one.
Tuesday, Day 4, was no different.
Asked if he was aware of the records that came his way at Bangalore, Tendulkar's answer was an affirmative.
"When you have got such a big screen, you can't miss such facts," he explained, adding, "whether I wanted to know or not, I had no choice."
The Master Blaster admitted he was ignorant of the fact that he had had so many hundreds against Australia.
"I just got to know that I have got 11 hundreds against Australia," he said, adding, "I don't believe in counting. It feels nice though to score runs against a top side.
"It has been a great challenge playing against them and is obviously satisfying."
Asked about his tremendous form this year, Tendulkar's reply was a tad strange.
Tendulkar's records in the second Test
- Became the first batsman, when on 27, to surpass 14, 000 runs in Test cricket in what was his 171st match.
- His 49th Test century, scored a day earlier, was also his 11th against Australia. That put him second on the all time list behind Jack Hobbs. It was also his first century at the Chinnaswamy in 12 years -- after his 177 against Australia in 1998.
- When on 116, he also completed 3000 Test runs against Australia, thereby becoming only the third batsman -- after Hobbs (3636) and David Gower (3269) to achieve the feat.
- When he went past 150 for the 20th time in Tests, he surpassed Brian Lara's record of 19 150-plus scores. It was also his sixth score of 150-plus against Australia, going past Wally Hammond and Lara who have five each.
- In scoring his sixth double, he joined Virender Sehwag as the Indians with the most double hundreds in Tests.
- Amidst all these, Tendulkar also became the highest scorer at the M Chinnaswamy stadium -- with 772 runs in eight Tests.
- And he remains the batsman with most runs in 2010 -- 1217 runs in nine Tests
"Honestly, I have not done anything differently this year," he began, adding, "Possibly, I am hitting more balls now.
"Gary (Kirsten) has helped me and he throws millions of balls at the whole team. The bowling machine and Gary are competing about who gets tired. He doesn't seem to get tired."
Tendulkar, if readers remember, has eulogized the Indian coach in most of his recent interviews/interactions. However, in this case it also spread over to the team.
"It is just that the team is doing well. And when the team is doing well, you just try to get better each day," he said.
Tendulkar, however, admitted that India had floundered on day four, losing out on an opportunity to have the Test completely under control.
"It was disappointing to lose five wickets in such a short span in the morning," he admitted, before going on to elaborate.
"I think we have come back very well with the bowlers doing a fantastic job," he said, adding, "it's going to be a big day for us tomorrow.
"The Test match is at a critical stage. It's all about how we deal with pressure and apply ourselves."
He also refrained from mentioning any target India would like to chase on the final day.
"The lower the better, we don't want to chase a big target," said Tendulkar, adding, "The pitch has become slower, the cracks have widened.
"Obviously, it is not an easy track to bat on."
Considering, therefore, that India is still to bat, one would expect more records from the ace batsman's blade.
However, knowing Tendulkar, he would be happy to trade a personal landmark for a win.
Or, as he put it: "Team is always above the individual."
So what better than an Indian win on Wednesday over an opponent India is?yet to beat at the Chinnaswamy.
That would make the Test even more special for Tendulkar.