It is rare for an Indian captain to take the blame on himself.
Especially since blaming someone else is easier, and an has been the norm in Indian sport.
And considering the person in question, and the occasion, one would find it difficult to believe.
There have been instances in recent history of Mahendra Singh Dhoni refusing to own up for Team India's shoddy show and laying the blame on his bowlers, batsmen et al.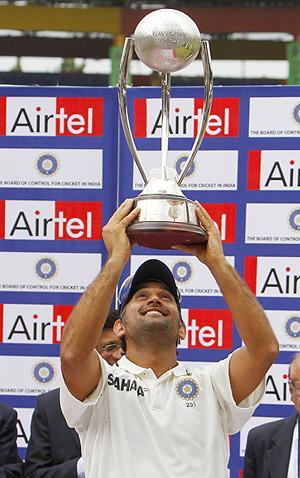 However, on Wednesday, after India completed a 2-0 series win over Australia by winning the second Test in Bangalore, Dhoni was in a benevolent mood.
While applauding the batsmen, as usual, India's captain singled out the bowlers for special praise.
"Batting has always been our strength, but it is the bowlers who have impressed me more in this series," said Dhoni.
"The effort put in by the bowlers was really good," he added.
Then came an honest admission, with him owning up responsibility for the predicament his bowlers were in during the series.
"By losing the toss so often, I am not helping them out," admitted Dhoni, taking the blame on himself.
"Especially considering the conditions in the subcontinent, we now have to bowl first more often that not," he continued, adding, "In the first innings there's usually no swing. So they (the bowlers) have to look for alternatives to get the batsmen out."
For the record, including the Test in Bangalore, Dhoni has now lost nine consecutive tosses, including five straight at home.
The last time he actually won a toss was a year back, against Sri Lanka at Kanpur -- in what was India's 100th Test match win.
He might have been unlucky with the coin, but Dhoni was spot on with his strategy.
On Wednesday, in what turned out to be a masterstroke, the Indian captain promoted debutant Cheteshwar Pujara up the order (to No 3) when India lost opener Sehwag early. Asked to explain his move, Dhoni was forthcoming.
"The reason behind promoting Pujara up the order was to have some experience down the order, something that might have been required in a match like this," he reasoned, adding, "We thought the opposition might be taken by surprise and that is what happened."
 The Saurashtra batsman made his maiden half century (72) to help his side considerably. And Dhoni had some encouraging words for the youngster.
"Rather than taking it as a pressure situation, he took his innings as one where a good performance will be noticed," explained Dhoni, adding, "I was very happy with his approach."
India became only the fourth country to blank Australia in a Test series following their maiden clean sweep against the team from Down Under. But Dhoni didn't read much into it.
"It is easy to do it when you are playing a two-match series," he said.
"Had it involved four or five matches, it would have been tougher," he continued, adding, "But I am fortunate to have a side which has been doing well for the last year or so."