It has come as a big relief for Australia that Master Blaster Sachin Tendulkar has been rested for the three-match One-Day International series.
Tendulkar scored 403 runs, including a double century, in India's 2-0 whitewash over the Australians recently.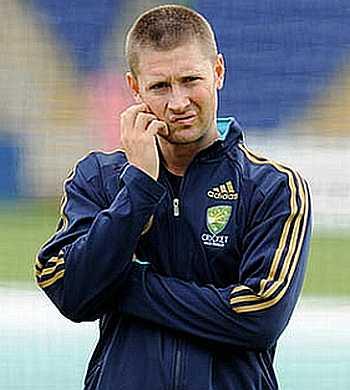 Therefore, it was not a surprise when Australia's stand-in captain Michael Clarke expressed his delight at not having to play against the veteran batsman in the ODIs.
"I am happy that he [Tendulkar] is not playing. I am sick of seeing Sachin scoring so many runs," Clarke said on the eve of the first ODI in Kochi, on Saturday.
Tendulkar has always enjoyed a successful run with the bat against the Australians. In 67 matches against the men from Down Under in 1991, the 37-year-old has scored 3005 runs at an average of 46 with nine centuries and 14 fifties.
He also slammed the Australian athletes who vandalized their apartments at the Commonwealth Games in Delhi, after their cricket team lost the second Test match in Bangalore.
"It is very disappointing but obviously we have no control over what other people are doing around," Clarke said.
There were reports that the Australian athletes had abused Tendulkar for his match-winning performance in Bangalore.
However, Clarke said that the rash behaviour from a few athletes was contrary to the general feeling in his country, where Tendulkar is adored for his genius. "We all love Sachin Tendulkar because he is an amazing player and for what he has done for world cricket is unbelievable. He is a great ambassador for the game."
The Aussie skipper was also quick to add: "As much as I love seeing him score so many runs but not so many against Australia."
He was all praise for Tendulkar's batting in the Test series and said it was a good learning experience for few of his team-mates.
"I think we have seen again one of the greatest players of all time, bat like a genius -- Sachin Tendulkar. I think Nathan Hauritz would have learnt a lot about the difference between bowling in India and Australia."