It was the Indian team's first day out in the park after four days of frustration and rain in Kochi.
Mahendra Singh Dhoni and his boys got their first outing out in the middle with a light practice session at the Dr Y S Rajasekhara Reddy stadium in Visakhapatnam, on Monday.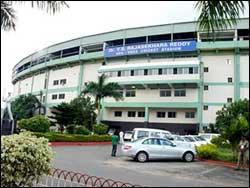 The first One-Day International between India and Australia was washed out on Sunday following persistent rain in Kochi. Such bad was the weather that the two teams didn't even come to the ground for a practice session.
But all is well in the port city on the south-east coast of India with bright sunshine greeting both teams as they made their way into the city on Monday.
The stadium is also all decked up for the all-important and unlike Kochi, the outfield is lush green.
The groundstaff claimed that even if it rains on the eve of the match, it would not be a problem as the drainage system is excellent.
"We are an exclusive cricket stadium unlike Kochi and we have made full preparations for this match," an official said.
The Indian team went through their usual routines in a light practice sessions involving mostly fielding and catching practices.
The second One-Day International will be played on Wednesday and the third and final match in Goa on Sunday, October 24.