Bowling legend Joel Garner tells Bikash Mohapatra that the West Indies may not be consistent enough now, but it still produces some of the best players in the world.
It is easy to be in awe of Joel 'Big Bird' Garner.
His impeccable Test record -- 259 wickets in 58 Tests (@ 20.97) -- as also his huge 6 ft 8 inch (2.03 metre) frame ensures you look up to him, literally.
And that is precisely something that rightfully earned him a place in the ICC Hall of Fame earlier this month.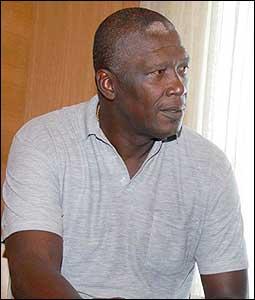 But once you look beyond the peripheral appearance, Garner is all about humility.
The legendary fast bowler, who in the company of Michael Holding, Andy Roberts, Colin Croft and even Malcolm Marshall formed a coterie that the world feared, comes across as an amiable and straight-talking human being.
Having been part of a West Indies squad that dominated world cricket, amongst others not losing a Test series in more than 15 years, Garner is palpably saddened to see Caribbean cricket in its current plight.
The West Indies has won just four of its last 46 Tests (in the last five years), their last win having come against England (in Jamaica) back in February 2009. Moreover, their bowling is no more the fierce weapon it once was.
Ask Garner the reason and he smiles .
"Well, it is safe to say that the players we have got now are much smaller than what we were," he replies, tongue-in-cheek.
The legendary bowler refuses to admit that the current team has lost the plot owing to indiscipline, instead coming up with his own reason as to what is ailing West Indian cricket.
"I don't say it is the discipline we lack," says Garner, adding, "I would say it is the lack of cricket."
The 57-year-old goes on give an elaborate explanation.
"We play less than anyone less," says Garner, adding, "Our first class season is limited to five-six games a year.
"And our international matches are also less in number compared to the other teams." 
The legend also points out that money is another factor.
"We don't have the kind of finance you guys have," he says, adding, "It would be a good idea to professionalise West Indies cricket in the near future."
However, despite the gloomy state of affairs, Garner remains hopeful.
"We may not be consistent enough now but we still produce some of the best players in the world," he argues, before pointing out what he believes will get the team back on track.
"They (the players) need to enjoy as much as we did," says Garner, adding, "once they do that the performances will follow."
And for all those who believe it is all over West Indies cricket -- that the team won't ever come out of it's nadir -- Garner has the last word.
"We will work our way out," he warns, the smile on his face intact, to an extent justifying his optimism. 
Photograph: Sahil Salvi